Rebecca Aylward mum: Jail killer Joshua Davies forever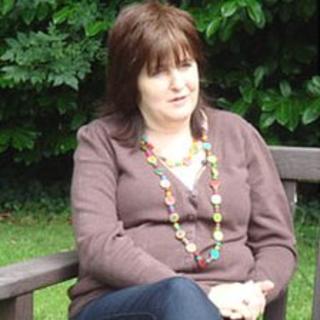 The mother of murdered schoolgirl Rebecca Aylward says she hopes her daughter's killer will never be released from custody.
Rebecca, 15, was lured into a wood in Aberkenfig, near Bridgend, by her ex-boyfriend Joshua Davies, 16, who then battered her to death.
He is due to be sentenced next month after a jury convicted him of murder.
Rebecca's mother, Sonia Oatley, said Davies was "pure evil" and she wanted him locked away "forever".
She told BBC Radio 5 Live: "I don't ever want him to come out.
"I want him to be locked away forever so that he won't do this to another person, because I am convinced he will do it to another person."
Asked if she thought Davies was mentally ill, she replied: "No", adding: "I think he's just pure evil."
She described how she had tried to look Davies in the eye since her daughter's murder, but he kept trying to avert her gaze.
However, recalling one moment when she did catch his eye, she said: "It was like looking into the eyes of the devil, it really was."
In July, Swansea Crown Court heard that Davies "sometimes" hated Rebecca and a friend offered to buy him breakfast after suggesting that he "get rid of her".
The jury was told during the four-week trial that she died of head injuries caused by a rock, and was found still wearing new clothes bought for her the day before her death.
Rebecca's mother reported her missing when she failed to arrive back at the family home in Maesteg, near Bridgend.
Her body was found face down in the woods the next day.
The jury heard that Davies openly plotted to murder her sending chilling text messages to his friends about how he planned to do it.
That is when his friend had turned to him and suggested he get rid of her, the defendant told the court.
The friend then told the defendant he would buy him breakfast if he did, the court heard, and Davies replied: "You're on".
But the defendant denied that he was serious, saying: "No-one kills for a breakfast."
Ms Oatley said she now wanted to persuade other youngsters to act if they become suspicious of a friend bragging about committing serious crimes like Davies.
She urged people to "tell a teacher, an adult, a friend, anybody... so we won't have another Joshua Davies".
She added: "If it would stop it happening to another one child it will be well worth it."
She described how her daughter met Davies in April 2008.
At first he was shy, she said, but would regularly stay at Rebecca's family home, and soon became "just like a big brother" to Rebecca's sister Jessica, now 13, and brother Jack, nine.
With hindsight, she said she could now see signs that Davies gradually became a "little bit boisterous" around the home, but he and Rebecca were a "very normal" teenage couple.
Shortly before he ended the relationship with Rebecca, he had stayed at her family home. Ms Oatley says she remembers him saying: "That was the best weekend of my life."
He later texted Rebecca to say the relationship was finished.
Describing the day her daughter was killed, she told how Davies had arranged to meet Rebecca at Aberkenfig, letting her believe they were going to "rekindle their relationship".
"It took her all morning to get ready," she said. "She had to be perfect."
Rebecca's sister, Jessica, recalled: "She was really excited to go... she was just so happy that morning."
Ms Oatley said she later discovered that Davies had been "planning it for over a year, various ways including poison".
Sister Jessica said Rebecca's murder had "turned us into something we don't want to be".
She added: "Our family has just been absolutely destroyed."
Remembering her sister, she said: "She was like a mother to me and Jack. She was more of a best friend than a sister."
Her brother, Jack, said Rebecca was "beautiful, friendly, kind - really kind - like a mother," while Ms Oatley said Rebecca was a "beautiful, intelligent girl who had so much to give".
She had wanted to be a lawyer for the Crown Prosecution Service and had hoped to go to university.