Retail plan for Newport's Megabowl complex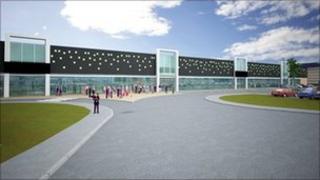 A former indoor bowling complex in Newport may be turned into shops.
Developer Johnsey Estates said hundreds of jobs could be created at the new retail centre at the former Megabowl site.
The company had initially planned an earlier scheme to build a food store at the complex which has been empty since it closed in 2005.
It said a number of national retail companies had shown an interest in opening outlets at the site.
The retail complex would be called the Mega Centre.
The developers have even created a web-based 'fly though' video to show how the completed development may look.
Terry Johnsey, of Johnsey Estates, said: "We've developed plans to redevelop the empty Megabowl centre as the Mega Centre and bring it back into beneficial use for the people of Newport.
"We have already registered keen interest in the scheme with a number of well-known operators now looking to come on board."
He said the option still remained open for Johnsey Estates to create a retail superstore on the former bowling alley complex site subject to demand.
He added: "The proposed scheme represents an ideal opportunity to improve competition and choice, to make use of this long-vacant building, to provide a major improvement to the quality and appearance of the building and to provide up to 400 new jobs including some 100 during construction."