More than 50 asbestos bags dumped on Gelligaer common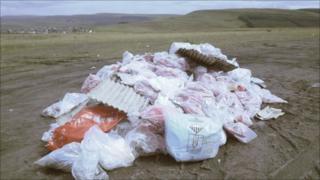 More than 50 bags of asbestos have been dumped near a fishpond on Gelligaer Common in Caerphilly county.
Environment Agency Wales launched an investigation after a member of the public reported the find to Caerphilly council.
It said the material did not present a danger to human health, wildlife or pollution to the pond, and some was even bagged correctly.
The clean-up is likely to cost thousands of pounds, it added.
An agency spokesperson said: "It seems as if the people who did this knew what they were doing in terms of bagging the material. To then simply dump it like this is completely irresponsible.
"Material like this must be disposed of properly because it has the potential to harm the environment and human health.
"However, it does cost money to dispose of properly, which is probably the reason behind this crime."
Anyone with an information about this incident is asked to call the environment agency's hotline on 0800 807060.