Gwent Police search for owners of stolen motorbikes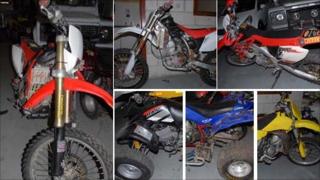 The owners of stolen off-road motorcycles and quad bikes are being asked to come forward to claim them.
Gwent Police have issued pictures of the property recovered from a property near Newport last month.
The haul is part of an on-going investigation into the thefts.
Anyone who recognises one of the vehicles, or has information about off-road motorcycle or quad bike thefts, is asked to contact the force on 101.