South east Wales E. coli outbreak: New case confirmed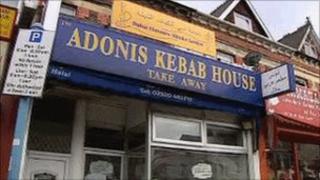 A new case of E. coli has been confirmed bringing the number hit by a food poisoning outbreak in south east Wales to eight.
Four other cases remain under investigation. One person is still in hospital.
Officials investigating the outbreak have used an emergency order to stop a takeaway in Cardiff trading.
Adonis Kebab House in the Roath area of Cardiff was already closed temporarily as a precaution.
The city council sought the emergency prohibition order at Cardiff Magistrates Court on Thursday.
Dr Gwen Lowe, Consultant in Communicable Disease for Public Health Wales, said they were dealing with an outbreak of a serious bacterial infection that caused abdominal pain and diarrhoea.
NHS Direct
"The symptoms range from mild diarrhoea, stomach cramps to bloody diarrhoea," she added.
"Most people recover without complications, but the most severe cases can develop kidney failure.
"We have sent letters to GPs, out of hours services, hospitals and pharmacies across south east Wales to alert them to the situation."
Anyone experiencing symptoms should contact their GP or NHS Direct Wales on 08454647.
Public Health Wales is asking people who have eaten from the Adonis Kebab House since 18 July to help with the investigation by giving their details via a form on its website.
Dr Lowe added: "Since Monday 53 people have already given us their details and we will be contacting them very shortly.
"Investigations are ongoing and we continue to monitor the situation closely."