Michael Jackson Cardiff tickets to go on sale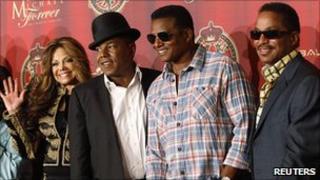 Tickets for the Michael Jackson tribute in Cardiff will go on sale next week despite further criticism of the event, its UK-based promotion consultant says.
Paul King said the plan was for tickets to go on sale to the general public at 09:00 BST on Wednesday morning.
On Friday music website Stereoboard UK branded the gig "a damp squib" and cast doubt on whether it would still take place.
But Mr King insisted: "The concert is very much going ahead."
The 8 October Michael Forever concert at the Millennium Stadium was announced by producers Global Live Events on Monday 25 July but has since been dogged by controversy.
Despite reports that Jackson's mother Katherine, his sister La Toya and brothers Tito, Marlon and Jackie, were endorsing the event, the late singer's other brothers Jermaine and Randy labelled it "inappropriate" and "ill-timed".
On Thursday news that rock band Kiss had been dropped from the bill, after branding the star a child abuser, prompted Jermaine Jackson to say: "This mishandling reinforces my view that this promoter is getting it all wrong."
In response Global Events Live chief executive Chris Hunt called the Kiss booking an "oversight".
And in an article published on its website Stereoboard UK claimed:
the largest Michael Jackson online fan forum was calling on fans to boycott the show
the ticket process had been poorly advertised and handled, with the registration process extended for a further 72 hours
the line-up was akin to "a glorified X-Factor winner's show"
the signing up and subsequent dropping of Kiss from the billing was a "blunder"
"When you look at all of the facts and take everything in to consideration, it's more than fair that the fans aren't happy with the promoters or the concert," said the article.
"What could have been spectacular now seems like a damp squib. Poorly executed and without the necessary support from the estate needed to make it a success."
Global Live has been asked to respond to these criticisms.
Mr King, who said he had recently been brought on board with the event to look after advertising and the physical production of the show, responded to claims of poor advertising of ticket sales.
"There was never meant to be any advertising until the tickets went on sale," he said.
"The [online] registration process was meant to allow hard core fans a chance to buy tickets first."
Mr King confirmed: "The tickets will be going on sale next week.
"The registration process closes at midnight on Sunday and we are hoping to process all registrations within a 24-hour period.
"The current plan is for tickets to go on sale to the general public at 9am on Wednesday morning."
When contacted about the criticism levelled at the concert a spokeswoman for the Millennium Stadium responded said: "It's not a concern that we have.
"We continue to do what we need to do behind the scenes to deliver the concert."
Christina Aguilera and Leona Lewis are due to take part in the show.
Other stars set to appear include Cee Lo Green, Smokey Robinson, boy band JLS and Jackson's nephews 3T.
Michael Jackson, who died in June 2009 aged 50 while rehearsing for his This Is It tour, was cleared of child molestation in 2005.