Newport shooting: Family say gunman 'needed help'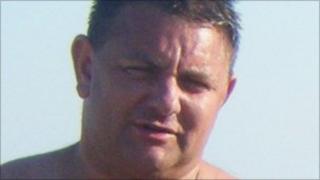 The family of a gunman found dead after targeting his estranged wife in a hair salon in Newport say he needed help.
Relatives of Darren Williams said they are devastated by Friday's events.
Mr Williams, 45, from Cwmbran used a double-barrelled shot gun in an attack which saw three women injured at Carol-Ann's hair stylist on Malpas Road.
His family said he was suffering from the "traumatic break-up" of his marriage and "desperately needed professional medical attention."
Mr Williams' body was found at Brynglas woods - behind Brynglas primary school in the city - at 20:15 BST on Friday.
Gwent Police are continuing to investigate the incident and say they are not looking for anyone else in connection with his death.
Six hours earlier he had entered the hairdressers and shot his estranged wife in the knee.
The Royal Gwent Hospital said she said had been in a comfortable condition and was considered well enough to be transferred to Morriston Hospital in Swansea on Saturday.
Two female customers suffered minor injuries from rebounds from the shots and have been discharged from hospital.
The shooting sparked a major police search for Mr Williams and his grey Mini Cooper.
Gwent Police have confirmed that Mr Williams had been known to them but would not confirm whether a restraining order was in place, or if he had been arrested previously.
In a statement to BBC Wales his family said: "Darren has suffered for the last few weeks due to the traumatic break up of his marriage and desperately needed professional medical attention"
"The people who have been hurt, family and friends, as a family we feel that had Darren been given this help and support the situation could have been avoided. We ask that you respect out privacy at this very sad time."
Police are looking at CCTV images to try to piece together events before the shooting which happened at about 14:20 BST on Friday.
Mr Williams did not have a shotgun licence, but was known to have a passion for hunting and outdoor pursuits.
The Gwent force have appealed for anyone with information about the incident, and in particular about the shotgun Mr Williams used, to contact them on 101 or via Crimestoppers.