Round House legacy of cremation pioneer William Price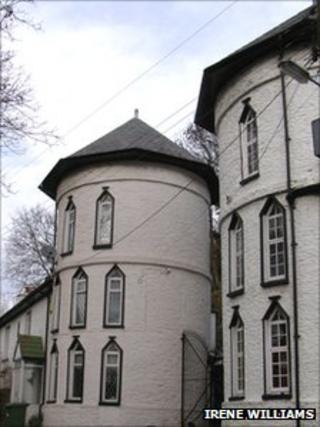 For more than 150 years Dr William Price's twin Round Houses have been an iconic feature of Pontypridd.
But while they will always be associated with the man who was the driving force behind legalising cremation, ironically, he never actually lived in them.
They were originally intended to form the gateway to a 19th Century museum of Welsh druidic life, but never fulfilled their intended purpose, as it quickly emerged that Dr Price neither owned the land, nor had permission or finance to build them.
And so the towers which were meant to attract visitors from all over Britain and its then empire have spent a century and a half as ordinary, albeit unconventional, private residences.
The Round Houses are back in the spotlight because one of them is for sale as a home.
That spotlight was equally familiar to Dr Price, who became best known around the world as the man who tested the legality of cremation in the courts.
In 1884, he burnt the body of his infant son, according to his neo-druidic beliefs that burial would pollute the ground with death.
He successfully argued that the law did not prohibit the burning of corpses, and paved the way for the 1902 Cremation Act.
But this was just one notable event in a colourful life spanning 92 years.
Dr Price was also an ardent Welsh nationalist, one of Britain's youngest ever fellows of the Royal College of Surgeons, an early proponent of co-operative health care, a prominent Chartist, and in his latter years, an eccentric figure of fun.
Outlandish
Born in Rudry, near Caerphilly in 1800 to a schizophrenic priest and an uneducated maid, Price could not speak or read a word of English by the time he started school aged 10.
But in three years of education, he had not only learnt a new language, he'd also passed all his exams and secured an apprenticeship with a local doctor.
Five years later, despite minimal family support, he moved to Whitechapel to study at The Royal London Hospital, becoming a qualified surgeon in 1821.
Returning to practice in Wales, Dr Price soon gained notoriety, both for the quality of his work, and the outlandish nature of some of his beliefs.
'Revolutionary idea'
Dean Powell's biography, Eccentric, charts Dr Price's courageous and sometimes calamitous life.
"He must have been a seriously good doctor, as pretty much everyone in the valleys, from coal and iron barons to their labourers wanted to be treated by him.
"And Dr Price would only charge according to his patients' ability to pay; no-one was ever turned away.
"He set up a co-operative health system in Pontypridd, free at the point of need, which was a revolutionary idea at the time.
"He was also one of the first doctors to advocate non-smoking, exercise and vegetarianism."
"His social, religious and political beliefs were equally radical for the time, he was a devout Welsh nationalist, neo-druid and Chartist, all of which would cause him problems in his later life."
Influenced by the neo-druid Iolo Morganwg, throughout the 1820s and 30s Dr Price would become increasingly fascinated with reviving the ancient Celtic religion.
But while this expression of his Welsh identity was tolerated, and even encouraged by the ruling elite, it was a very different story when it came to his other cause, Chartism, and he spent two years in exile in France, during which time his druidic beliefs grew even more peculiar.
After seeing a Greek sculpture in the Louvre in Paris, Dr Price became convinced that it depicted an ancient Welsh druid praying to the moon, and that the inscription foretold of a leader who'd come to lead the Welsh people into a new age of enlightenment.
Fox skin head-dresses
Returning to Wales, he took to wearing garish red and emerald outfits with fox skin head-dresses, and carrying a staff bearing words in a language he'd made up; which he argued only true druids would be able to understand.
He also denounced marriage, which he said enslaved women, and fathered numerous children with at least two women.
Dr Price returned to his idea of a museum of druidic life in 1855, commissioning The Round Houses as a grand entrance.
However Dr Price soon fell out with landowner Benjamin Hall - possibly owing to a fling between Price and Hall's wife, Llanover - and the venture collapsed.
Price was once again forced to flee to France, in order to avoid creditors.
From there he wrote increasingly random works, proclaiming himself to be Lord of The Southern Welsh, and citing supposedly ancient Chinese texts which he claimed proved Greek epic poet Homer built Caerphilly Castle and was born in nearby Y Fan.
All this was still over 20 years before he came to global prominence for his victory in the cremation test case.
Dr Price died drinking a glass of champagne, just before his 93rd birthday, in January 1893.
According to his wishes, he was cremated in an iron coffin on top of two tons of coal.
His statue stands in Llantrisant, where he lived from 1866, but perhaps the biggest tribute to him is Wales' first crematorium in Glyntaff, just a stone's throw from his Round Houses.