Port Talbot residents fight for Morfa Beach access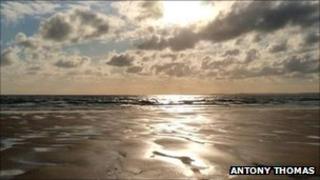 Residents have launched a campaign to use a beach on part of the sprawling Tata Steel site in Port Talbot.
Morfa Beach stretches from the deep harbour at the eastern end of Aberavon sands to the mouth of the Kenfig River.
And while privately owned by the steelmakers, locals say it has been used by walkers and surfers without problems for decades.
Tata Steel says the site is hazardous. It is working with the local authority to divert walkers via a new footpath.
The proposed path will give locals access to a safe stretch beyond the boundaries of land it owns.
But locals say they also want to be able to access Morfa Beach - also known as Margam Sands - saying it has already been used unofficially without problems for years.
Neath Port Talbot County Borough Council explain that while the current footpath heads towards the beach it stops at a road owned by Tata and, while it does not connect to the sands, walkers have been making their own way to the beach even though there is no public access.
'Hazardous site'
Council head of planning, Geoff White, said plans include creating a new path to link from a diversion across the River Kenfig on to a new bridge to the Bridgend area.
He said opponents could formally object to the proposals which would then be considered through a public inquiry.
Local resident Antony Thomas, who has started a campaign on Facebook to "Save Morfa Beach", told BBC Wales: "The beach and the path have been used by people here for decades. It's a really popular spot.
"Why are Tata security suddenly stopping people on the beach and on the path and claiming they are trespassing?
"We are concerned that the company has industrial plans for the area they haven't revealed yet."
A spokesman for Tata Steel said Morfa Beach is as a hazardous site, officially classed as a COMAH (Control of Major Accident Hazards) Tier 1 site.
"We're working with the council to create a new footpath that will give access to the beach east of the mouth of the Kenfig River," said the spokesman.
"The local ramblers have told us they are delighted with the plans."
He said he was not aware that the company had changed the way it dealt with anyone trespassing on the site.