Warning after storm damage hits Crumlin and Newbridge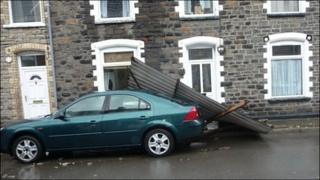 A sharp storm has brought disruption to parts of south Wales, with warnings of localised flooding.
South Wales fire service responded to reports a roof had been blown off a house in Crumlin, Caerphilly county.
Residents in Newbridge, Caerphilly, also reported what looked like a "tornado" as a tree fell and tiles were blown off roofs.
Environment Agency Wales warned of overnight flooding in Carmarthenshire, Ceredigion and Pembrokeshire.
The localised floods are expected to affect roads and fields overnight Thursday into Friday after the Met Office forecast locally intense rainfall and heavy showers.
The agency advised drivers to listen to local weather and traffic reports for local information about disruption.
The Met Office said showers would continue into the evening and could be heavy and thundery, especially close to the Bristol Channel coast and in Pembrokeshire.
'Whirlwind'
River flooding is not expected due to low river levels and relatively dry ground conditions across Wales.
BBC Wales weather presenter Sue Charles said: "We had some heavy thunder showers - first in south and west Wales - then in a line from the Gwent valley down to Cardiff where we had reports of high winds and even tornados causing damage.
"Heavy showers are forecast overnight for parts of Carmarthenshire, Pembrokeshire and Ceredigion - the Met Office issue a warning for south west Wales - we could see up to 40mm (2 ins) falling by Friday morning."
Scattered showers with heavy bursts are expected to last into Friday, becoming more isolated by Saturday.
South Wales fire service said they were called to Crown Street where a flat roof had been blown off a building by the wind and had hit another roof, partially damaging it.
Officers made the roof safe and nobody was said to be injured.
Jean Perry, who works at Crumlin Medical Centre in Crown Street, described the storm:
"There was thunder and lightning and the surgery doors were slamming and it felt like the roof of the surgery was going to blow off."
She said an 86-year-old woman lives in the house where the roof was damaged, and was unhurt but a lot of tiles have been blown off her roof.
She added that Crown Street "looks like a bomb has hit" with lots of bins and leaves strewn across the street.
Precarious
Officers have also been deployed to Newbridge, where Dave Johnson reported a blast of extreme weather at around 16:45 BST in Tynewydd Terrace.
He told BBC Wales: "It was like a mini-tornado or a whirlwind that lasted for about 30 seconds, followed by hailstones.
"A tree landed on a roof in the next street and houses nearby have had tiles ripped off.
"We had a huge sheet of metal from a metal shed blow into our garden and smash the fence up. We don't know where it's come from, so it's travelled quite a way."
Paula Harris, who lives opposite Mr Johnson, said she too was caught in the sudden storm while on her way home from work.
"The wind was so strong it carried me forward into the walls of the house opposite, where I managed to get a hold and pull myself up my house steps," she said.
South Wales fire said they were called to Cwrt Tynewydd where a large tree had fallen, causing damage to a garden fence.
One of the branches had landed on the roof of a house and was precariously positioned.
The branch has been removed and the fence made safe. There are no reports of any injuries.