Four evacuated as yacht runs aground near Cardiff Bay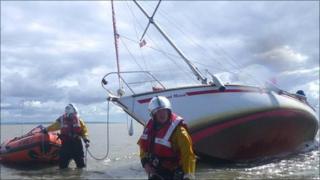 Four people have been evacuated from a yacht after it ran aground near the entrance of Cardiff Bay.
They were picked up by a lifeboat from nearby Penarth before the 27ft (8m) boat, August Moon, was later refloated and made its way into the harbour.
Swansea Coastguard said the yacht had veered away from the navigable channel into the bay.
A rescue helicopter from RAF Chivenor was also requested but later stood down.
David Jones, the Swansea Coastguard watch manager, said: "We would like to remind mariners to exercise caution when navigating the entrance to Wrach Channel in Cardiff as the sand and mud banks change on a regular basis.
"This vessel has got into difficulty by traversing off the navigable channel.
"Straying from the channel has regularly caused vessels to ground on mud or sand banks in the area."