Asteroid spotter Hannah hopes for her name in the stars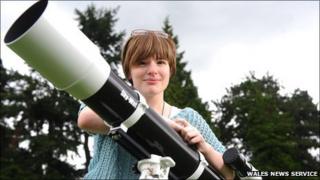 A sixth-former who went on work experience to study astronomy and discovered two new asteroids is hoping to have one named after her.
Hannah Blyth was using a remote-controlled telescope to stare into the night sky when she helped spot 22 new asteroids between Mars and Jupiter.
Fellow stargazers hope one will be named "Hannahblyth" after scientists in America confirm the discoveries.
The 18-year-old from Castleton, near Newport, was "totally amazed".
"It's an honour that there's a rock out there which may one day have my name on it," she said.
"I felt elated when I realised what I was looking at it - it was beyond my wildest dreams.
Summer placement
"It's totally mind blowing."
Miss Blyth was on a summer placement with the Faulkes Telescope Project, based at the University of Glamorgan, when she made the discoveries using robotic telescopes in Australia and on the Hawaiian island of Maui.
She was given coordinates to study the sky between Jupiter and Mars which would then direct the telescopes to take photographs of them.
Other astronomers working on the project looked at her images and realised her discoveries
The images were sent to three asteroid experts, Nick Howes, Giovanni Sostero and Ernesto Guido, who confirmed the asteroids had never been seen before.
The finds have to be verified by the Minor Planet Centre at Harvard University in the United States.
"I was not really expecting to be involved with the asteroids never mind finding new ones," Miss Blyth added.
"It was an extremely exciting moment when we discovered the asteroids, and something to remember.
"I'm very proud of the fact that I was part of something like that, I had a lot of fun."
'Highly unusual'
Miss Blyth was encouraged by her biology teacher at St John's College in Cardiff to go on the month-long placement.
The University of Glamorgan said that it was "highly unusual" for an amateur to discover such phenomena on their own, and "even more remarkable" for someone still at school.
Dr Paul Roche, head of astronomy at the university, said: "We decided to squeeze this project in to the normally quiet summer months when the telescopes are not being used and it has been an amazing success.
"We had hoped to find maybe one or two new asteroids but Hannah and the team have discovered 22 brand new asteroids which have never been seen before by anybody.
"These are lumps of rocks the size of buildings that are millions of kilometres away.
"They are dark grey against a black background, so very hard to find.
"Hannah is very lucky. Most amateurs may discover one or two of these in their lives so to be involved in spotting 22 while on work experience is fantastic."