Skills boost for musicians ahead of Merthyr Rock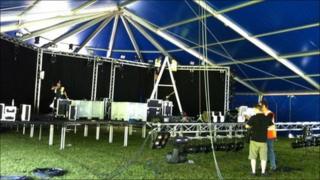 Music industry hopefuls have been given a helping hand with their skills ahead of a new rock festival.
Merthyr Rock kicked off at Cyfarthfa Park, Merthyr, on Friday, organised by the team behind the Hay Festival.
Local people have been attending instrumental workshops and courses in design, music journalism and photography.
The Blackout from Merthyr Tydfil and Funeral for a Friend from Bridgend are among those playing.
Also performing at the three-day festival are indie bands Ocean Colour Scene and Cast, Skindred and Goldie Lookin' Chain from Newport, Attack Attack, Future of the Left from Cardiff and the Last Republic.
The festival opened with a DJ set from Ian Watkins of the Lost Prophets, who formed in Pontypridd in 1997 and have achieved huge success.
Throughout recent weeks, local people have been able to take part in workshops designed to improve their skills in guitar, bass playing, electric drums and synthesisers.
Other courses have taught skills in design, music journalism and photography.
Liam Toomey, 18, from Merthyr, who is working as an intern with the festival, said he would like to work in the industry in the future.
"I've got to look after the artists, make sure they're catered for, make sure they know their timings and basically make sure they're ok.
"I've never done anything like this before. It's a big learning curve for me and I'm sure the weekend will be even bigger.
'Amazing bands'
"Like all young musicians I want to be in a band, but if I can't it's something in the music industry I'd like."
This is the third separate event in Wales run by the Hay Festival, which is also behind Brecon Jazz.
There has been criticism from some that the music festival calendar is overcrowded.
But organiser Rhodri Jones said there was room for Merthyr Rock and hopes it will become an annual event.
"The plan is to make this a firm fixture in the rock 'n' roll calendar," he said.
"It felt like there was a big gap. Such amazing bands have come from Wales.
"We keep creating brilliant performers and showmen but at the same time all the venues seem to be dying out.
"We wanted to create something big that could be a catalyst and create the occasion to match the heritage."
The festival has a capacity of 4,000 on each day.
The main stage is inside a tent in Cyfarthfa Park, so whatever the weather, festival goers should stay dry.
Bethan Elfyn will host her BBC Radio Wales show live from Merthyr Rock on Saturday between 17.30 - 20.00 BST.