Work starts on £1bn Llanwern steel site development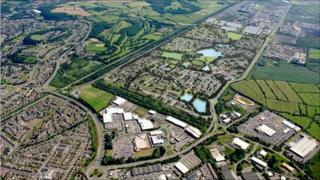 Work has started on a £1bn project to build 4,000 new homes on the site of the former Llanwern steelworks in Newport.
Developers say it will see houses built over the next 20 years, creating 6,000 jobs, as well as a business park, a GPs surgery and supermarket.
Developer St Modwen has been involved in preparation for the last five years, clearing the site.
The first phase of work which started on Friday will see 307 new homes built.
The new community to the east of Newport will be called Glan Llyn and the 600-acre site, which was acquired by St Modwen in 2004, includes plans for schools, a police station, new access roads, as well as health and leisure facilities.
A business park, covering 1.5m sq ft will be built adjacent to the homes.
When completed the value of homes and office buildings on the site will top £1bn, according to the company.
Last year, it was revealed the development would begin with the construction of 140 homes in the first three years.
The old heavy steel-making plant at Llanwern closed with the loss of 1,300 jobs in July 2001, although there is still a finishing mill there.
Up to 400,000 tonnes of concrete cleared from Llanwern will be re-used in the redevelopment of the site.