Cardiff has UK's highest energy bills, report finds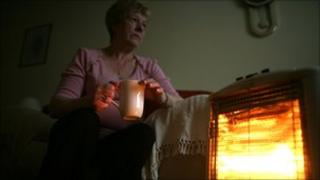 Cardiff homes have the UK's highest energy bills, says a report which a consumer watchdog calls very worrying.
While Leeds and Manchester have the cheapest bills, Cardiff customers typically pay £1,073 on direct debit and £1,175 on prepayment meters.
The report is by the Department of Energy and Climate Change (DECC), which said energy costs vary regionally because of differing network costs.
Consumer Focus Wales said customers were right to ask if prices were fair.
According to DECC's quarterly energy prices report, Cardiff households pay an average of £428 a year on electricity and £645 for gas on direct debit.
They also spend, on average, £459 on electricity and £716 on gas on prepayment meters.
When the bills for gas and electricity are added together, the total energy bills are up to £71 higher per year than in areas such as Leeds, which has the lowest combined energy bills in the UK.
'Severe fuel poverty'
The findings are based on an annual gas consumption of 18,000 kWh and electricity consumption of 3,300 kWh.
Liz Withers, head of policy at Consumer Focus Wales, said: "These findings are very worrying for thousands of vulnerable people across Wales.
"Currently, there are 61,000 homes in Wales living in severe fuel poverty, spending £1 in every £5 on keeping their home warm.
"In recent years we have seen big spikes in the cost of heating homes during the winter months, and the devastating impact that can have on household budgets. People shouldn't have to choose between whether to eat or heat but many do."
She added that, with all but one of the big six suppliers so far raising their energy prices between 10 and 20%, an extra 90,000 households in Wales will find themselves in fuel poverty this winter.
"Consumers simply don't trust that energy companies have customers' interests at heart and rightly question whether prices are fair," she said.
"Wholesale costs have gone up but they are still around a third lower than their 2008 peak.
'Lazy behaviour'
"Ofgem declared that energy firms are guilty of greedy and lazy behaviour - bamboozling customers and exploiting structural weaknesses in the market."
A DECC spokesman said: "Energy prices do vary regionally: network costs, which account for 24% of the average gas bill and 21% of the average electricity bill, include the cost of building, maintaining and operating the local gas pipes and electricity wires and the high pressure gas and high voltage transmission networks which deliver energy directly to your home.
"Suppliers are charged for this service and pass on the costs to the consumer.
"The cost of this varies according to region, therefore the costs to the consumer will depend upon the area in which they live."
He added that independent regulator Ofgem sets price controls which limit the total amount of revenue that distribution and transmission companies can earn.
"Ofgem have developed a new regulatory model to get the best value for customers, potentially saving consumers £1billion over the next ten years," he said.
Emma Bush, energy expert at uSwitch.com, said consumers in Cardiff should be "rightly concerned" by the findings and urged consumers to shop around for better deals.