Porthcawl lifeboat rescues four girls at Southerndown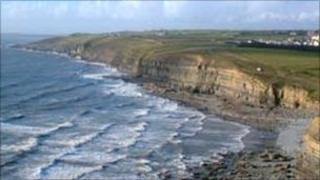 Four teenage girls who were stranded by the tide in darkness at Southerndown cliffs in the Vale of Glamorgan have been rescued by the Porthcawl Lifeboat.
Coastguards co-ordinated the rescue after one of the youngsters raised the alarm using a mobile phone.
The lifeboat was launched at 21:06 BST on Friday and the girls were quickly located and brought onboard.
Earlier, in a separate incident, the lifeboat was launched to help a broken down fishing boat at Sker Point.
'Difficult conditions'
Of the later rescue, the RNLI said the girls were not the first to be caught out by the tide at the cliffs and urged people to take care.
The girls were brought back to the lifeboat station safe and well at 22:15 BST.
Lifeboat helm Simon Emms said: "The crew worked well together in difficult conditions, rescuing the girls from the base of the cliff in total darkness and strong currents.
"The spring tides at the moment are some of the biggest of the year.
"It was easy for these girls to get cut off so quickly as the tide was coming in very fast and caught them out."
Station operations manager Phil Missen said: "This is not the first time we have been called to rescue people from this area of Southerndown this year.
"When walking along the base of the cliffs it is important that you know the tides and you stay clear of the base of the cliffs when the tide is approaching high water.
"It was lucky they had a mobile phone and a signal to call the coastguard."