Boy, 6, suffers facial injuries in Cardiff dog attack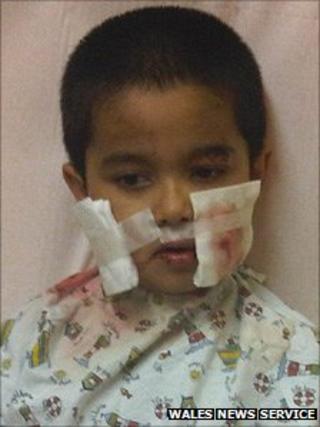 A six-year-old boy is being treated for serious facial injuries following an attack by a dog in Cardiff.
Erfan Ali was in his garden with his mother when the dog, thought to have been a Rhodesian Ridgeback, leapt over the fence in Gabalfa and bit the boy.
Erfan suffered injuries to both cheeks, his right arm and a hand on Friday, and underwent a four-hour operation in the early hours of Saturday.
The dog was destroyed on Friday, and police have launched an investigation.
Erfan's father Dilwar Ali, a local businessman, told BBC Wales his son would be permanently scarred, and faced further operations.
The boy was initially taken to the University Hospital of Wales in Cardiff, but was transferred to Morriston Hospital in Swansea.
Mr Ali, who works for the family business Nahin Spice Centre in Caerphilly Road, said: "My son went into the garden to help his mother to collect the washing when the dog from next door jumped the fence and grabbed my son's hand.
"The dog was very aggressive. My son managed to get back to the house, but the dog would not let go and carried on attacking him."
The attack finally ended when the dog's owner managed to remove it from the family's kitchen.
Erfan's elder sister phoned the police and paramedics.
Mr Ali was not at home at the time, but said he was "horrified" when he arrived shortly afterwards.
"We've been told by the hospital consultant that Erfan will have permanent scars," said Mr Ali, a father of four.
"My son is well known in our community and is a big Cardiff City fan."
Mr Ali, who is an active member of the local Labour party, said he had received many goodwill messages from people in the community following the attack on his son, including former First Minister Rhodri Morgan and his wife Julie, the Labour Assembly Member for Cardiff North.
The dog's owner told the Wales On Sunday newspaper he was "devastated" over the incident.