PC Brett O'Hagan accused of South Wales rugby attack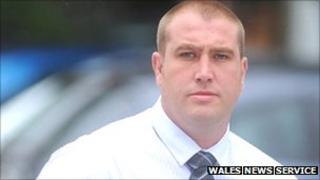 A police constable attacked a detective during a rugby match, leaving him needing surgery, a jury has heard.
Brett O'Hagan allegedly lashed out at force colleague Gareth Bishop, causing facial cuts, a black eye and broken nose.
Newport Crown Court heard Mr Bishop was playing for South Wales Police and Mr O'Hagan, 31, for opponents Wattstown.
Mr O'Hagan, of Porth, Rhondda, denies wounding with intent to cause grievous bodily harm, claiming self defence.
Prosecutor Michael Hammond said: "It's an unusual case - this took place in the rugby field with the defendant and the victim both serving police officers with the same force.
"Mr Bishop could see O'Hagan kneeing another player in the back and went over to split the two players up, pulling the defendant away.
"But as he turned to walk away he was punched once in the face and knocked to the floor.
"As he lay there, O'Hagan kicked him once in the face with a forceful blow."
Mr Bishop, 38, who was wearing a protective skull cap, was rushed to hospital with cuts to his face, which had to be stitched.
He later underwent an operation to reset his nose.
The jury was shown photographs of the officer's injuries and pictures from the match taken by a photographer on the touchline.
The alleged violence - which was not seen by the referee - erupted 20 minutes into the game between South Wales Police and village team Wattstown RFC.
Mr Bishop, a detective constable in Barry, later complained to police.
Officers interviewed Mr O'Hagan at his home and seized his rugby boots, which the court heard had blood on them matching Mr Bishop's DNA.
Mr O'Hagan claimed he acted in self-defence.
'Tempers flare'
Mr Hammond told the court: "Rugby is a hard and physical game.
"Tempers flare and punches are thrown but this is usually dealt with by the referee and can be part and parcel of the game.
"But once in a while things are taken too far and go beyond the rules of the game.
"In this case it was so serious that it went far beyond the rules and became a criminal action and must be dealt with in a criminal court."
Number eight forward Mr O'Hagan claimed in a police interview that the incident began when a South Wales Police player hung onto his legs.
He said: "I saw Gareth Bishop running full-pelt towards me - he must be four stone heavier than me.
"He was coming so fast that he was out to cause me damage. I lashed out with a straight-arm punch and he ran onto my fist."
The trial continues at Newport Crown Court.