Inventor Lawrence Toms in Rhondda 'vodka' explosion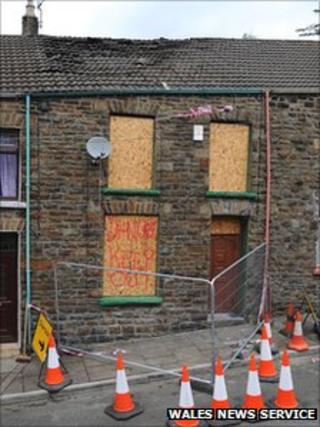 An inventor has been injured in an explosion, after apparently producing vodka in a house in Rhondda Cynon Taf.
Lawrence Toms, 44, from Tynewydd, near Treherbert, was taken to hospital with burns to his hands and face.
Ten terrace houses were evacuated as a precaution as the fire spread through three roof spaces.
Police said Mr Toms had not done anything illegal because it is not a criminal offence to produce alcohol for private use.
Four fire engines and a water bowser were called to the scene after the explosion at 23:34 BST on Tuesday.
A spokeswoman for South Wales Fire and Rescue Service said it took three hours to bring the fire under control.
Massive explosion
Neighbours described hearing a huge blast.
One, Gavin Rees, 28, said he then looked out of the window and saw Mr Toms in his underwear with serious burns to his arms.
"I took him in and ran his burns under the tap until the paramedics took him away."
Hannah Knowles, 63, who lives opposite, said: "I looked out the window and saw giant jets of flame shooting out of the roof of Mr Tom's house. I've never seen anything like it.
"His windows were blown out but luckily for me his camper van was parked outside and that shielded me from the blast."
Entrepreneurship
Graduate Mr Toms runs his own small company which makes, among other things, gift paper and stationery from sheep droppings.
In 2006 he won a £20,000 Millennium Award for "social entrepreneurship".
He is being treated at Morriston Hospital in Swansea where he was described as "stable".
South Wales Police said they believe the explosion was caused by home-made alcohol.
"The windows were blown out of the property and it was lucky no one in the street was injured," said a spokesman.
"We believe the explosion was triggered by a home-brewing kit. But officers are satisfied he was making it for his own consumption and this was not a commercial operation."
Officers took the apparatus away for examination.