Unite urge Sogefi factory jobs rethink at Llantrisant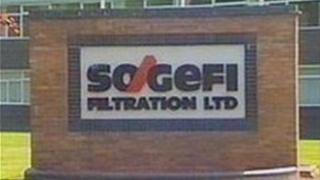 Union leaders are meeting with politicians to discuss 190 job losses at a south Wales car parts firm.
Sogefi Filtration announced in June it planned to make the redundancies at its base in Llantrisant, Rhondda Cynon Taf.
Unite wants it to avoid compulsory redundancies by considering a shorter working week and relocation of staff to other Sogefi sites.
Pontypridd MP Owen Smith has urged the company to enter "meaningful" discussions with the union.
The company, which currently employs 402 at the site, said difficult market conditions and spiralling costs mean it had to restructure operations at Llantrisant.
The redundancies are due to take affect on 7 October.
Unite regional officer Andrea Jones said local MPs, AMs and MEPs had been invited to the meeting at the union's offices in Cardiff on Friday.
She said: "Unite will be asking the political leaders to put pressure on the Italian-owned company to come up with other solutions rather than compulsory redundancies, such as a shorter working week and relocation to Sogefi's other sites.
"We would also like them to get assurances from management that Sogefi Filtration continues to manufacture at its Llantrisant site in south Wales."
She warned a "lack of genuine negotiation" over job losses could lead to a ballot for strike action at the site.
So far, 76 employees have taken voluntary redundancy.
But Mr Smith said he understood others had been turned down with the company looking to make compulsory redundancies.
"That's clearly not acceptable," he told BBC Wales.
"It is regrettable that the management at the company does not appear to be negotiating with serious intent with the union."
Future concerns
Pontypridd AM Mick Antoniw said he wanted to know if there was anything the Welsh Government could do to help.
"Sogefi is a really important employer in my area," he said.
"I know personally a number of people who work there and are very concerned about the future."
BBC Wales has asked the company for an update on its plans.
Sogefi said in June it was "very disappointed" about the proposed job losses.
It pledged to work closely with Unite to ensure the impact of redundancies was kept to a minimum.
"Our main priority now is to keep employees informed throughout the process, to do what we can to keep job losses down and to support those affected in finding alternative employment should that prove necessary," it said at the time.