PC Brett O'Hagan cleared of rugby GBH on fellow officer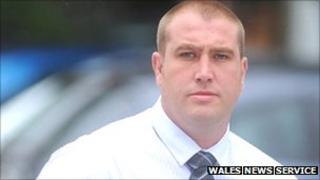 A policeman who punched a fellow officer during a rugby game has been cleared of causing grievous bodily harm and wounding.
PC Brett O'Hagan, 31, playing for Rhondda side Wattstown, said he hit Det Con Gareth Bishop in self defence.
Newport Crown Court heard that Det Con Bishop, 38, playing for South Wales Police, had facial cuts, a black eye and broken nose, and required surgery.
The jury took two hours to reach a not guilty verdict after a five-day trial.
Recorder of Cardiff Judge Nicholas Cooke QC told the court: "I hope this officer [PC O'Hagan] can return to his duties."
The court heard how the two officers from South Wales Police were on opposing sides during a local league match.
The incident, which was not seen by the referee, happened 20 minutes into the game.
Taken to hospital
Michael Hammond, prosecuting, said Det Con Bishop saw PC O'Hagan kneeing another player in the back and went over to split the two players, pulling the defendant away.
He said he turned to walk away but was punched once in the face and knocked to the floor.
Det Con Bishop, 38, was taken to hospital with cuts to his face which needed to be stitched.
He later had an operation under general anaesthetic to reset his nose and will need another operation later this month.
PC O'Hagan, 31, a number eight forward and captain of the village side, told the court the incident began when a South Wales Police player hung onto his legs.
He said he was defending himself as Det Con Bishop ran "full pelt" towards him. He also denied kicking him.
'Lashed out'
Det Con Bishop, a CID officer in Barry, Vale of Glamorgan, later complained to police who went to PC O'Hagan's home to interview him.
PC O'Hagan said: "I saw Gareth Bishop running full-pelt towards me - he must be four stone heavier than me.
"He was coming so fast that he was out to cause me damage. I lashed out with a straight-arm punch and he ran onto my fist."
PC O'Hagan is waiting to hear whether senior officers will launch an internal investigation into the incident.
He would not comment afterwards but South Wales Police Federation misconduct manager Howard Casey said on his behalf: "He is extremely relieved."