Ex-Marine Steve Thomas in Thailand coma insurance row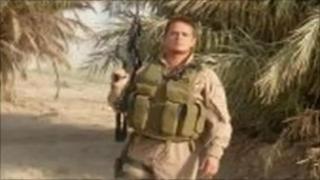 The family of a former Royal Marine who is in a coma following a scooter crash in Thailand say his insurers are refusing to bring him home.
Steve Thomas, of Newport, had surgery to fix a broken jaw and cheekbone, but remains unconscious as doctors try to remove fluid from his brain.
The family of Mr Thomas, aged 39, have flown out to be at his bedside.
Insurer Barclays said it could not discuss an individual claim without permission.
Mr Thomas served with 42 Commando Royal Marines, and had been on the island of Phuket for three weeks studying martial arts.
His mother and stepfather are with him and friends back home are trying to raise money to fund his treatment.
In a statement, Barclays said: "Because of data protection laws we are unable to discuss the details of an individual claim without the permission of the policyholder or his representatives.
"If provided with the relevant permission we would be fully prepared to explain all details and exclusions with regard to the individual's claim."
Family friend Tony Charles from Newport said he was delighted with the response to the appeal for help.
"By [Monday] it had reached £1,100 but it's really taken off today and we've even had a single donation of [US] $500".
'Vital tool'
Mr Charles, himself a former Royal Marine, said a lot of former and serving marines were backing his friend.
"There's been huge interest from the marine community but also from his friends far and wide," he said.
"We often say - and this does sound clichéd but it's true - that once a marine always a marine. We close ranks and help each other out."
Mr Charles said Facebook had been a vital tool in highlighting his plight and in sharing information.
He praised Angie McCulley, the secretary of the Royal Marines Association in Thailand, for her regular updates about Mr Thomas, posted online from Phuket.
Mr Thomas was in a coma and his jaw was broken in a couple of places, he added.
"His cheekbone was also broken. There was swelling on the brain. It is looking much better now, he's recovering," he said.