University of Glamorgan stages Welsh Apps Showcase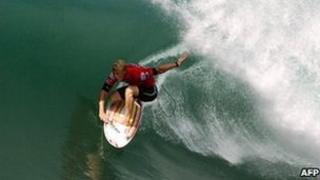 A new smartphone app to let surfers know the best time to head to the beach is among the ideas being highlighted at a Cardiff event for Welsh developers.
The Surf-Forecast app includes a wave finder and a webcam so users can see live images of surf breaks.
Its launch will be at the University of Glamorgan-organised Welsh Apps Showcase at the Wales Millennium Centre.
Last week a conference about the growing UK apps industry was held at Aberystwyth University.
This latest event also aims to demonstrate how app technology is changing how businesses operate.
App developers will also show off their concepts.
They include the Cardiff-based company behind Surf-Forecast.com, which previously developed a snow forecasting app, Snow-Forecast.com.
Company director Nick Russill said: "Predicting ocean swells and weather is far more challenging than just snow forecasting, so we have had to develop very complex software systems."
The app includes such features as an email alert system, which Mr Russill said could be fine tuned to suit different water sports, as well as a webcam giving live images of surf breaks."
The free app will also provide seven-day wave and weather forecasts.
The University of Glamorgan's Centre of Excellence in Mobile Applications and Services is helping small businesses and start-ups to design, develop and protect the creation of new mobile phone services and applications.