Inquiry continues after boy found in Cardiff fountain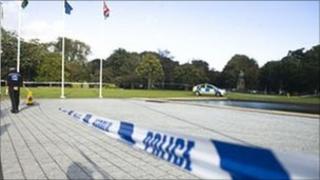 An investigation is continuing after a two-year-old boy was found face down in a fountain outside Cardiff City Hall.
The boy remains in a stable condition on Wednesday in intensive care at the city's University Hospital of Wales.
South Wales Police were called at 14:45 BST on Tuesday to a report of a young child in the water.
Officers said by the time they arrived the boy had already been pulled out of the fountain.
Police have apologised for confusion over the boy's age, which they originally reported as two, then changed to four, and has now been confirmed as two.
In a new statement issued on Tuesday, Ruth Walker, executive director of nursing for Cardiff and Vale University Health Board, said: "The young boy is being cared for at University Hospital of Wales' paediatric intensive care unit where he is still in a stable condition.
"Staff are doing everything possible for the young boy and are supporting the family as best they can during what is a very difficult time."
A student has told the BBC how he spotted the child lying face down in the water and jumped in to rescue him.
He was joined by other members of the public as they tried to revive the boy and council staff working in City Hall rushed out to try to help as well.
One delegate attending a conference at the venue told BBC Wales: "I came out and there was a guy who I think had pulled the little boy out of the water.
'Sirens and commotion'
"A few people were giving CPR then the police turned up."
Another delegate said: "I just heard sirens going and a lot of commotion.
"Someone came running out with a defibrillator and I asked what was going on and was told a child had been found in the fountain."
Cardiff council, which owns the fountain, has praised staff who helped in the rescue.
It also said it was helping the emergency services with their inquiries as the investigation continued.
It is understood the boy's parents had gone to a nearby police station to report him missing. They went with him to hospital.
Police said the incident was not being treated as suspicious.