Cardiff graduate's team in Shackleton Antarctica trek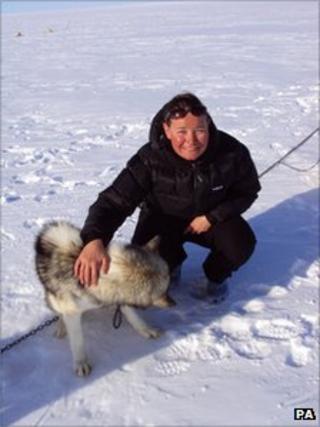 A team of adventurers plans to recreate the epic journey of explorer Sir Ernest Shackleton across Antarctica.
Led by Cardiff University graduate Jo Davies, 32, the team is training for the expedition in 2014 - 100 years after Shackleton set out.
If successful Ms Davies, from Cornwall, will be the first woman to cross the continent from the Weddell Sea to the Ross Sea via the South Pole.
She said the team was determined to complete the mission.
The six-strong Imperial Trans-Antarctic Centenary Expedition team will also include experienced adventurer Sebastian Coulthard, a Royal Navy petty officer from Bewdley, Worcestershire.
It will set off in summer 2014 and the crossing will take between 100 and 120 days to complete.
Ms Davies, who will become the first woman to take on the Antarctic challenge, said: "The team are determined to complete the mission that Shackleton once set out to achieve.
"The next three years are going to be incredibly busy for us with a great deal of planning, preparation and training to do.
"I am excited to be involved in such an amazing project and very much hope to be the first woman to complete the trans-Antarctic crossing following Shackleton's proposed route."
Crushed by ice
It will be the third attempt to cross the Antarctic on foot.
Shackleton's attempt in 1914 failed when his ship Endurance was crushed by ice and the expedition had to be aborted.
The failure led to a famous escape with the entire 28-strong crew surviving after Shackleton and others completed an 800-mile (1,300 km) open-boat journey to South Georgia.
The feat was eventually achieved in 1955 when a team led by Sir Vivian Fuchs and Everest conqueror Sir Edmund Hillary completed the crossing in 98 days. However, they did not follow Shackleton's planned route.
Ms Davies and Mr Coulthard are still recruiting for the team, with four members needed.
They are looking for a medic, a photographer or cameraman, an artist or poet and a scientist.
Ms Davies told BBC Radio Wales: "We're looking for people who have got the mental toughness and physical toughness to do this 1,800-mile crossing.
"What we need is people that are strong mentally and physically and have the belief that it can be done.
"Maybe 70-80% of this is in the head. You can train yourself to be fit but in your mind you've got to be pretty strong. It's a 100-120 days of cold, white nothingness, skiing all day, hauling 100 kilos of gear. You need a strong mind for that."
Sir Ernest's granddaughter Alexandra Shackleton, the expedition's patron, said: "I feel confident that Jo, Sebastian and their chosen team will achieve their goal in honouring my grandfather's epic expedition."