Cardiff City Hall fountain rescue boy 'remains stable'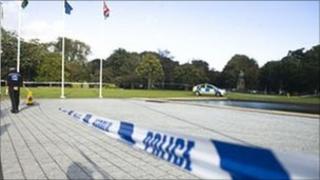 A two-year-old boy found face down in a fountain outside Cardiff City Hall remains in a stable condition in hospital.
The boy, who has not been named, was rescued on Tuesday by a student after a woman raised the alarm.
After being resuscitated at the scene, he was taken to University Hospital of Wales' paediatric intensive care unit.
"The young boy remains in a stable condition," a hospital spokeswoman said on Thursday.
Ruth Walker, executive director of nursing for Cardiff and Vale University Health Board, added: "As well as caring for the young boy, staff continue to support the family as best they can during a very difficult time."
South Wales Police were called to the incident at 14:45 BST on Tuesday. By the time they arrived the boy had been pulled out of the fountain.
Scott Taylor, 21, the student who rescued the boy from the water, has called for the fountain to be fenced off to prevent similar occurrences.
Cardiff council said all aspects of the site's management were being reviewed.
Police said the incident was not being treated as suspicious.