Llantrisant pioneer Dr William Price's plaque unveiled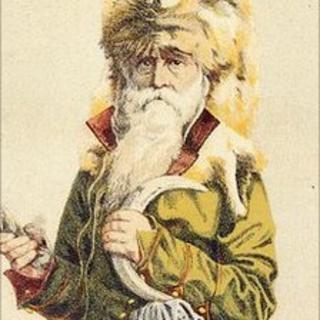 A plaque commemorating a 19th Century archdruid and surgeon who pioneered cremation has been rededicated.
The memorial to William Price had been on Zoar Chapel, the site of his former home, Ty'r Clettwr in Llantrisant, Rhondda Cynon Taf, for over 50 years.
When Zoar Chapel was refurbished it was fixed to an adjoining building in the town, then removed for renovation.
Cremation Society of Great Britain president Earl Grey took part in the unveiling at Zoar Court.
Dr Price became known worldwide as the man who tested the legality of cremation in the courts.
In 1884 he burnt the body of his infant son, according to his neo-druidic beliefs that burial would pollute the ground with death.
He successfully argued that the law did not prohibit the burning of corpses, and paved the way for the 1902 Cremation Act.
In a colourful life spanning 92 years Dr Price was also an ardent Welsh nationalist, one of Britain's youngest ever fellows of the Royal College of Surgeons and an early proponent of co-operative health care.
He was a prominent Chartist and, in his latter years, an eccentric figure of fun.
Dean Powell, author of a biography of Dr Price, described his contribution to Llantrisant as "massive".
"Dr William Price only lived in Pontypridd for the last 20 years of his life," said Mr Powell.
"He had already lived an adventurous and revolutionary existence in Pontypridd and Treforest before he came here.
"Llantrisant is an historically important town in its own right but he put its name into the eye of the world.
"The international coverage of the court case was unfathomable. It had a huge impact."
The copper plaque was first unveiled on the side of Zoar Chapel in 1947 by members of the Cremation Society of Great Britain.
It has been refurbished with the support of Rhondda Cynon Taf County Borough Council and Llantrisant Town Trust.
It will now hang near Zoar Chapel, now an apartment block known as Zoar Court.
The plaque was unveiled by both Earl Grey, president of the Cremation Society of Great Britain, and Sylvia Jones, mayor of Rhondda Cynon Taf, after a reception at Llantrisant Guildhall.
"It's returning to its rightful home," said Mr Powell.