Lynette White boyfriend 'forced to incriminate himself'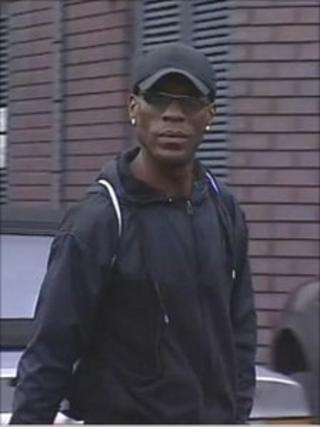 A man wrongly convicted of killing a Cardiff prostitute says he started to believe he was involved in her death after so much questioning by police.
Stephen Miller, the boyfriend of Lynette White at the time of her death in 1988, said he was in a state after 19 sessions of police questioning.
Nick Dean QC, prosecuting, he and other men held at the time had nothing to do with the killing and had been framed.
Eight ex-police officers and two other people are on trial.
The former policemen have all pleaded not guilty to conspiring to pervert the course of justice at their trial at Swansea Crown Court.
Stephen Miller, Yusef Abdullahi and Tony Paris were jailed for life in 1990 for the murder.
Becoming known as the Cardiff Three, they were released two years later after their convictions were quashed.
Mr Miller said he had been "broken" by police officers following his arrest in December 1988.
He told them at first the truth, that he did not know anything about the crime.
But by the end of the interviews he told them "a pack of lies" and even incriminated himself.
Engagement
He said he had seen John Actie and his cousin Ronnie Actie, Tony Paris and Yusef Abdullahi inside a flat on James Street, Cardiff, in the early hours of 14 February 1988.
Miss White, 20, had been using the flat to entertain clients.
In his final interview on 11 December he said he had been angry because he had not been able to find Miss White for four or five days, even though they were supposed to be living together in Dorset Street, Cardiff.
He was also angry because that weekend he had been due to take Miss White to London to meet his mother prior to them announcing their engagement.
On seeing her at the flat in James Street he immediately asked her why she had not been in touch and punched her in the face.
He told detectives a "pact" was then formed and everyone agreed to stab Miss White and then remain silent.
She was stabbed more than 50 times.
Mr Miller said the version was nonsense and later he felt responsible not only for "digging my own hole" but also for the arrests of the other four.
'Pretty distressed'
All five were remanded to Cardiff prison where, he said, "Ronnie Actie and Abdullahi threatened me, Paris keeps glaring at me and John Actie swore at me".
He said he later realised they were trying to get him to explain why he had told the police they had all been involved.
Mr Miller said he was crying a lot and was very angry with himself.
But he had been so successfully brainwashed by police that in February 1989, he made a statement to his own solicitor confirming as true the false accounts he had given.
At one point he became "pretty distressed" and was transferred to the hospital wing.
On being returned to the cells, he again met up with the Acties, Mr Paris and Mr Abdullahi.
By now, he said, they were beginning to understand what he had been put through.
The five went on trial at Swansea Crown Court in 1989 but, towards the end of a long case, the judge died and a second trial took place the following year.
Mr Miller said that between the trials the "Cardiff Five" became stronger.
"We were fighting a mountain. The police had everything. All we had on our side was our innocence," he added.
Ronnie and John Actie were acquitted by the jury after the second trial.
But Mr Miller, Mr Paris and Mr Abdullahi were found guilty and jailed for life.
They were released in 1992 after the Court of Appeal quashed their convictions.
In 2003, advances in DNA led different police officers to Jeffrey Gafoor, who had not known any of the Cardiff Five.
Gafoor admitted murder and said he was alone at the time and was jailed for life.
Mr Miller said he had never heard of Gafoor until his arrest.
The trial continues.