Newport teacher in Facebook baby pictures 'hoax'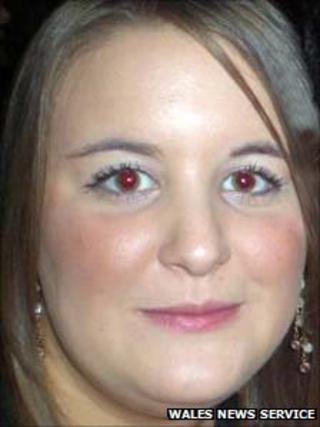 A teacher duped her ex-boyfriend into believing they had a child together after she stole baby photographs from Facebook, a disciplinary hearing was told.
Victoria Jones weaved "a web of deceit" for revenge, the General Teaching Council for Wales heard.
Ms Jones, 23, who worked in Newport, denies unacceptable professional conduct.
Her union told the ongoing hearing her actions took place in her private life.
The teacher, who worked at Ringland Primary School's nursery, pretended for two years that she and her former partner, Daniel Barberini, 26, had a daughter.
Miss Jones allegedly claimed the baby she called Keira was one of twins - but that her baby brother Harrison had died soon after birth.
She had even told Mr Barberini that the little boy was born with Downs Syndrome, it is claimed.
The hearing was told that the teacher dreamed up the hoax after a former schoolfriend added her as a "friend" on Facebook to show the pictures of her own daughter.
The 82 photographs showed the child - named in the hearing as Baby A - hours after she was born, celebrating her first birthday, enjoying Christmas and playing at home.
Miss Jones allegedly stole the pictures from the social networking site and used them to fool her former lover, saying he was the father, after their 16-month relationship ended, the hearing was told.
She claimed to have given birth to his twins in New York before emigrating from Britain to Australia.
In fact, she was still working at the school in Newport and had no children.
Disciplinary committee officer Haydn Llewellyn said her conduct "falls short of a registered teacher".
"You took various photos of the baby from her mother's account on Facebook without the agreement of her parents," he said.
"You provided them to your ex-partner and told him you were the baby's mother and he was the father.
"As a consequence, you compromised your professional status and credibility.
"You compromised your position of trust within the school and brought Ringland Primary School and the council into disrepute.
"These facts constitute unacceptable professional conduct."
'Private life'
Presenting officer Gwenno Hughes-Marshall said that some parents regarded her actions as a "silly mistake" while others threatened to remove their children from the school.
"One student teacher didn't return as she didn't want to be associated with the school after Miss Jones' actions," she added.
Miss Jones, who did not appear in person at the hearing, is facing three charges of unacceptable professional conduct at the hearing, which she denies. She has, however, admitted taking the photographs from Facebook.
The hoax only came to light when proud "dad" Mr Barberini showed one of the baby pictures to a friend - who also knew Baby A's real mother.
Baby A's mother told the police but after an investigation officers ruled the teacher had not broken the law.
Miss Jones is represented by her union NASUWT at the disciplinary hearing.
Colin Adkins, her union representative, told the panel: "Any right-minded person, as Victoria Jones does now, would consider her actions as wrong.
"But the acts were conducted in her private life."
The hearing continues.