Court payout for Megumi Wilson after 2005 hit-and-run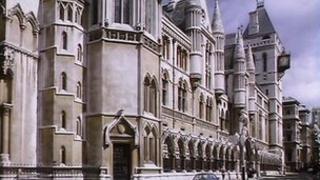 A 26-year-old woman left 99% paralysed in a hit-and-run in 2005 has received a £250,000 interim court payout which allows her to leave hospital.
"Catastrophic injuries" left Megumi Wilson able to communicate only by blinking, London's Appeal Court heard.
Driver John Dummett of Gloucestershire was jailed after he left the scene of the crash near the A40 in Monmouthshire and burned his car to destroy evidence.
Ms Wilson is now seeking multimillion-pound compensation.
John Dummett, of Clearwell, Coleford, was convicted of perverting the course of justice, failing to stop after an accident and driving while disqualified following the incident on the night of 29 May, 2005.
Ms Wilson, who has been in Rookwood Hospital in Llandaff, Cardiff, is said to be fully aware of the world around her but can do almost nothing for herself because the crash left her "partially locked in".
She is seeking damages at the High Court in London for her injuries from the Motor Insurers Bureau (MIB), which compensates victims of uninsured drivers.
'Tragic case'
The court heard that a judge has already sanctioned the £250,000 down-payment on her damages so that, after spending five years in hospital, Miss Wilson can return home. A round-the-clock private care regime has been set up to cater for her needs.
The £250,000 is on top of £348,000 already paid out by the MIB, but is still only a fraction of what she will receive when her case is heard at the High Court next year.
The MIB has appealed against the interim payout of £250,000, although it accepts it must compensate her on the basis of 70% liability.
Benjamin Browne QC, said a central issue would be whether most costs of the care regime needed for the rest of her life should be paid by insurers or by the local health board from public funds.
He said the £250,000 payout robbed the MIB of a "level playing field" and prejudiced the debate over whether she was better off being cared for privately at home, or either in a home of her own or an institution paid for by the health board.
Mr Browne said it was a tragic case, but there were doubts over whether the current care scheme in place at her home would survive.
He told the court a previous attempt to move her out of hospital ended in failure after five days when she was returned to intensive care.
Lord Justice Pill refused the MIB permission to appeal, and said the judge who ordered the £250,000 interim payment had rightly considered "the strong wishes of Megumi herself, who had been in hospital for five years and was very anxious to be in private accommodation".
"There was a genuine and strong wish on Megumi's part that she wanted to be in private care" and the judge was entitled to rule that a private regime should be set up for her in her own home prior to the full hearing of her case, he said.
Lord Justice Pill concluded: "I don't consider that there is a real prospect of success on appeal. This application is refused".
The hearing to assess the full amount of compensation is now expected to go ahead in May 2012, unless final settlement terms are agreed in the meantime.