Welsh Water fined £2,000 for River Usk over-pumping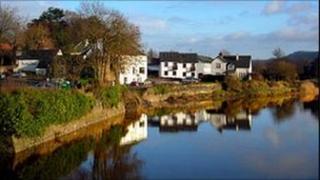 Welsh Water has been fined £2,000 after pleading guilty to pumping too much water from the River Usk.
Newport magistrates court heard on Thursday that huge volumes of water were accidentally taken at the Prioress Mill pumping station.
On one day in June 2010, over half of the River Usk was abstracted within a two-hour period.
Magistrates said the firm did all it could to rectify the errors, and the company said it was a genuine mistake.
On another day, the company took 683% more water than it should have done.
The extra water was pumped into a reservoir to be used in the public water supply.
'Genuine mistake'
The court heard the company took the water accidentally and did not need the surplus.
Over-abstraction can cause serious damage to the habitat of the River Usk, which is an area of conservation and special scientific interest.
Licences regulate the quantity of water taken, where it is taken from, and where it will be used.
Welsh Water had held the licence for Prioress Mill since 1993.
Magistrates were told that Welsh Water sincerely regretted the over-abstraction, which was a miscalculation.
The company said it had exposed errors in its management system and the company has now retrained its pump operators.
Magistrates also ordered the company to pay £4,000 costs.