Blaenau Gwent council in private litter warden trial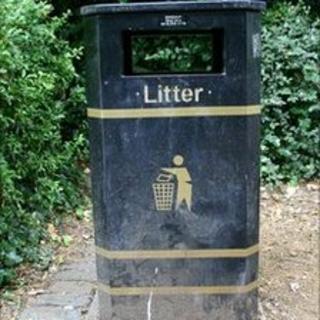 A council is to use a private security firm to issue fines to people dropping litter or not cleaning up after pets.
Blaenau Gwent will use wardens employed by XFOR, which already works with four English local authorities, to issue £75 fines for a trial six-month period.
The wardens will wear body cameras to record encounters with people for health and safety and evidence reasons.
Both XFOR and the council will receive an income, with the council employing two dog mess wardens with its share.
The council said it received hundreds of complaints about street cleanliness.
XFOR currently works with local authorities in Enfield, Broxbourne, Hertfordshire and Maidstone and can issue up to 200 fixed penalty notices a month in the area it operates.
Under the Blaenau Gwent scheme its wardens, along with management and support staff, will be based in council premises at Abertillery, with workers recruited from the local area.
Households in Blaenau Gwent will receive a letter in the next few weeks.
The council said it had already taken steps to tackle the problem.
These include issuing fines via its own enforcement officers, increasing patrols and surveillance in highlighted areas, sending out letters and putting up more than 300 dog bins around the county borough.
There are also plans for a further 250 bins over the next five years.
But the council's John Hopkins said more needed to be done.
'Zero tolerance'
"Our enforcement officers are employed to carry out a number of different roles and so are unable to completely dedicate their time solely to fixed penalty notices," he explained.
"By working with XFOR we can adopt a cost neutral, high profile, zero tolerance approach to catching the people responsible for dropping litter and letting their dogs foul and sends out a strong message that this type of behaviour is just not acceptable."
XFOR's Michael Fisher said: "Littering is an expensive problem for local authorities. The money spent on street cleaning could be redirected to other schemes in the borough.
"We have developed a scheme - which is already in place with a number of local authorities - providing enforcement officers who patrol the streets issuing fixed penalty notices to offenders."