Public drinking ban considered in Rhondda Cynon Taf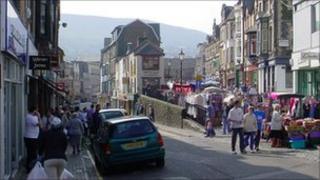 Restrictions on drinking alcohol in public places can now be imposed across Rhondda Cynon Taf (RCT) to tackle anti-social behaviour.
The council's cabinet agreed to a request for such an order at a meeting on Monday.
It would not be against the law to drink in a public place, but anyone refusing to abide by a police request to stop drinking could be prosecuted.
County-wide restrictions are already in place in Cardiff and Wrexham.
The council move comes after the previously successful introduction of Designated Public Place Orders (DPPOs) in Ynysangharad Park, Pontypridd, and Penrhiwceiber in the Cynon Valley.
The council said the order in Penrhiwceiber had led to a 39% decrease in alcohol-related incidents being reported to police in a year.
Such orders are in place in many areas of Wales, but usually only in specific designated areas.
Issued under the Police and Criminal Justice Act 2001, the orders give police the power to require someone to stop drinking alcohol in a public place and the ability to confiscate alcohol.
Anyone who refuses to comply faces prosecution and a fine of up to £500.
Cardiff and Wrexham councils have already introduced orders which cover the entire authority.
In April, South Wales Police enforced restrictions on public drinking on the beach and streets of Barry Island in Operation Oasis.
Speaking ahead of the vote, Rhondda Cynon Taf council leader Russell Roberts said they wanted to take a tough stance on anti-social behaviour.
"A county borough-wide DPPO provides the potential to tackle problematic drinking at any public location whether on the street or a car park or on a mountain road for example," he said.
"We are confident this is the right move that will send a very clear message to the culprits causing anti-social behaviour."
The proposal was also supported by South Wales Police.