Cynon Valley dental unit 'to boost access to care'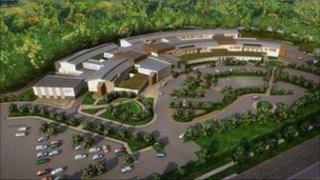 A new dental unit in Rhondda Cynon Taf will benefit those who cannot otherwise access dental care, say health officials.
The clinical teaching centre at the Cynon Valley Neighbourhood Hospital in Mountain Ash will provide 18 treatment units when it opens in January 2012.
It is estimated that 10,000 people in the area go without dental care.
Practices are reluctant to take on patients due to the large amount of work they require, said officials.
Peter Ash, of Cardiff and Vale University Health Board, said the new unit would be an asset to the community.
"The staff and students at the unit will assess those patients and develop a programme of work to address the problems and hopefully then pass them onto a dental practice for regular treatment and care," he said.
David Thomas, Wales' chief dental officer, said the centre would also allow dental students to gain valuable practical experience.
Funding comes from the Welsh Government and it is run in partnership between Cwm Taf Local Health Board, Cardiff and Vale University Health Board, and Cardiff University.