Aamir Siddiqi murder in Cardiff 'was mistaken identity'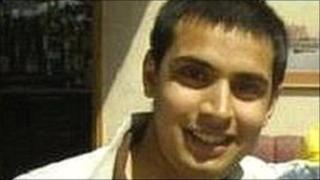 A teenager was stabbed to death in his home after his killers showed "staggering incompetence" by choosing the wrong victim, a court has heard.
Aamir Siddiqi, 17, of Roath, Cardiff, died after answering his door to masked men contracted to attack another man, Cardiff Crown Court was told.
His parents tried to fight them off, but were also stabbed by Ben Hope, 37, and Jason Richards, 36, the jury heard.
The defendants, both of Cardiff, deny murdering Aamir.
Patrick Harrington QC, prosecuting, said the attack came out of nowhere for Aamir's family.
"Neither he nor his parents had any expectation that their lives would be shattered by that attack that day," he said.
Aamir was a passionate sports fan, and intended studying law at Cardiff University after taking his A-levels at a £9,000-a-year private school, the court heard.
His father Iqbal, 68, and mother Parveen, 55, who also have three daughters, described him as a "young gentleman".
Mr Harrington said the two men had been recruited to carry out an attack over a debt.
"In what can only be described as staggering incompetence, they went to wholly the wrong address and killed an innocent young man who was waiting for his Koran teacher."
Their intended victim was a father-of-four living around the corner in a terraced house in neighbouring Shirley Road, he said.
"They were disorientated possibly because of drugs when they went to completely the wrong address," said Mr Harrington.
The court heard that after killing Aamir, the defendants went on a shopping spree with the money they were paid for their attack.
"It's a chilling thought that in this city there are two men who murdered for the price of a pair of training shoes and a laptop computer," said Mr Harrington.
Mr Harrington said they later blamed each other for the murder.
He told the court: "Ben Hope admits he was in the company of Jason Richards at times during the day and he went to the shops with him.
"He claims that during the afternoon, having taken heroin, he fell asleep and does not know anything Jason Richards did."
The court heard that Mr Richards blamed the killing on Mr Hope and a man from Sheffield who was in Cardiff on business.
Mr Harrington said: "He claims that although he was at Hope's house on the morning of the killing, he did not go with him to the Siddiqi house.
"He noticed the two men were agitated when they came back.
"He asked them what had happened and they told him: 'It's better you don't know.'"
Mr Harrington said: "Two very different stories - but they seem to be agreed about one thing - that the killer is in the dock.
"What they are doing is pointing a finger of blame at each other."
He told the jury: "These are the two men who went to the home of Aamir Siddiqi and carried out their lethal contract."
'Indescribable brutality'
The court heard the defendants were paid a "pittance" for the attack by wealthy Dubai-born Mohammed Ali Ege, 32.
Mr Harrington said the two were ordered to carry out the hit over the cash sale of a house by another man.
He said: "We know a lot about Mohammed Ali Ege. We know where he lived, we know what cars he drove, and we know what car his girlfriend drives.
"He spent lavishly and almost all in cash. What we don't know is where he is. We know he's not at home."
The court heard that Mr Ege drove an Audi TT and a Porsche Cayenne and would often deal in large sums of cash.
Mr Harrington said: "Ege decided to buy a house from the man and paid him a cash deposit of £50,000.
"That man had some debts and used that cash to pay some of that debt.
"But Ege then decided to back out of the transaction and not to proceed with the purchase and asked for his money back.
"But the man told Ege that was not possible as he had already used it to pay back his debts."
The court heard that Mr Ege was arrested on suspicion of aggravated burglary after attacking the man at his home.
It is alleged Mr Ege then ordered Mr Hope and Mr Richards to murder the man, but the "incompetent" pair got the wrong house.
Mr Harrington said: "These two men used lethal weapons against a totally defenceless teenage boy and his parents for pittance.
"This was a crime of indescribable brutality and savagery which they are now trying to avoid the consequences of by blaming each other."
The case continues.