Blaenau Gwent council recovery plan underway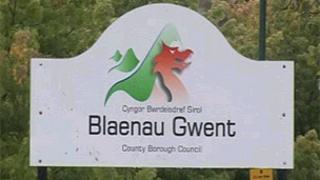 Commissioners in charge of education in Blaenau Gwent will have a recovery plan in place by the end of October, assembly members have been told.
But intervention will stay in place for another two years, Education Minister Leighton Andrews said.
The local education authority was the first in Wales to go into special measures after a report found "systemic" management failures.
Blaenau Gwent said it is "determined" to make the changes needed.
A wider report by the Wales Audit Office into the council management is under way.
Education Minister Leighton Andrews said the audit office publication is "forthcoming".
During a statement on the action being taken to address problems identified in Blaenau Gwent's education services on Tuesday, Mr Andrews said intervention from the appointed commissioners will last until October 2013.
In July a highly critical report by schools inspectorate Estyn found children and young people in Blaenau Gwent "do not make good progress" and that standards "are well below what is expected".
Mr Andrews said Welsh Government statistics showed in 2010/11 Blaenau Gwent had the highest rate of absenteeism from maintained secondary and special schools in Wales.
"Given the gravity of the situation my priority was to intervene in the education services of the authority to put the necessary arrangements and support in place to secure improvements as quickly as possible for the children and young people of Blaenau Gwent," he said.
"I am confident that the education commissioners and advisory education commissioners have the necessary balance of skills, expertise, and experience to turn the situation within Blaenau Gwent around."
'Significant package of measures'
He added that a task force of lead education officers, led by Neath Port Talbot council, remains in place.
Mr Andrews said their work and initial work undertaken by Blaenau Gwent would inform the "robust" recovery plan.
He promised a forensic analysis of the council's performance over the last three years and its capacity to improve schools.
"I intend to review the authority's compliance and the effectiveness and continued necessity of the direction at four monthly intervals."
A spokeswoman for Blaenau Gwent said: "Education is a top priority for this council, but our previous efforts to improve had not gone far enough, or fast enough.
"The education commissioners and task force bring additional experience, capacity, and challenge that we welcome.
"We're all determined to make the step change needed to improve outcomes for all learners in Blaenau Gwent, and a significant package of measures - which includes a comprehensive recovery plan - to improve standards is now coming forward."