Aamir Siddiqi murder trial: 'Killer squandered pay-off'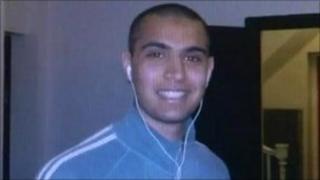 One of two men said to have murdered a teenager in a case of mistaken identity squandered his share of the money after being paid off, a trial has heard.
Aamir Siddiqi, 17, died after answering the door of his Cardiff home to masked men contracted to attack another man, Cardiff Crown Court was told.
Patrick Harrington, prosecuting, said Ben Hope "went shopping in a big way".
Mr Hope, 37, and Jason Richards, 36, deny Aamir's murder and attempting to murder his parents. The case continues.
Mr Harrington said of Mr Hope: "He went to the Foot Locker store to buy three items - a pair of white trainers, socks and a wallet.
"The store manager remembers that transaction because Ben Hope went to the till and when he took out the money to pay it was in a white envelope.
"The manager looked at that envelope and it was full of money - he estimated over £1,000 in notes.
"Hope took the notes out of the envelope and put them into the wallet he was buying."
The jury heard how Hope then took a taxi to PC World to buy a new laptop, asking for the "highest laptop you do".
He eventually bought a Toshiba which cost £699 and paid in cash.
But the court heard two days later, Hope sold it for £200 to a second-hand store.
Mr Harrington said: "To get that £700 he had committed murder. That shows a totally uncaring attitude in every aspect of his life, to do a murder for that pittance and then squander the money in little over an hour."
The court heard that Aamir was stabbed on the doorstop of his home overlooking Roath Park in April last year.
Prosecutor Mr Harrington said: "When Parveen Siddiqi ran to her son he was lying in a pool of blood.
"She could see he wasn't breathing and her husband said he couldn't find a pulse. It was then that she called 999."
The court heard Richards was also making phone calls at "exactly the same time" - to demand their money for carrying out the killing.
Mr Harrington claims Richards said: "We want to report back, job done. We stabbed him. His parents got in the way so we stabbed them.
"Job done, now when do we get our money?."
The court heard that the pair were paid £800 to carry out a contract killing, but were meant to go to the home of a 49-year-old father-of-four living less than 100 yards away.
Instead the pair - high on drugs - repeatedly stabbed the A-level student as his parents watched on in horror, the court was told
Aamir had spent the morning watching television and chatting with his parents and sister Miriam, who left moments before the attack.
Mr Harrington said: "That was the last time she saw her brother because by then Hope and Richards where on their way to kill him."
The jury was told Aamir opened the door to his family home expecting to see his Koran teacher.
Mr Harrington said: "Aamir's dad remembers being in the hallway when the front door bell rang and Aamir ran down and opened the door.
"Mr Siddiqi saw two men in the door way and both were holding daggers in their raised hands - they were already wearing black balaclavas.
"The incident happened extremely fast. The moment the door was open they where ready to attack.
"They were howling and immediately started stabbing Aamir with downward movements. He saw both men make contact with Aamir's chest.
"He turned to try and get away but fell on his back.
"And as he was falling Ben Hope made a swift stabbing motion towards him."
His parents tried to save their son but were stabbed before the knifemen left the scene.
The jury was shown CCTV of the hours leading up to the murder showing Hope and Richards trying to buy tape and gloves.
They were also shown telephone records of them repeatedly contacting Mohammed Ali Ege - who is said to have commissioned the attack - on the morning of the murder.
Mr Ege, 32, allegedly ordered the hit over a £50,000 debt which was owed to him.
He has been on the run since the killing and is believed to have fled the country.