Michael Jackson concert: La Toya to perform in Cardiff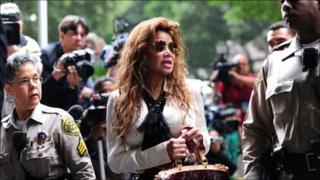 Michael Jackson's sister La Toya is to step out of retirement after 20 years to perform at the Cardiff tribute concert in his name next month.
Ms Jackson is the latest act to be added to the bill for the Michael Forever concert at the Millennium Stadium on 8 October.
She said: "There will never be another magical moment such as this to celebrate Michael with his fans."
The Black Eyed Peas, Christina Aguilera and Cee Lo Green will also perform.
The concert has been surrounded with controversy since it was announced in July.
It was launched with the support of the singer's mother Katherine and brothers Tito, Marlon and Jackie.
However, Jermaine and Randy Jackson said it should not go ahead because it would clash with the trial of Conrad Murray, the singer's former doctor accused of his involuntary manslaughter.
Another of Michael's sisters, Janet Jackson, has also said she will not attend as the timing was "too difficult".
'Celebrating'
La Toya Jackson revealed she had spoken to her mother about her involvement in the event.
Ms Jackson said she asked her mother whether she thought Michael would rather his family be in court, or performing on stage.
"She said without a second of thought: 'Celebrating his life with family and fans.' I am looking forward to putting on a great show and making my brother proud," she added.
Ms Jackson added nothing would make her brother "smile bigger or brighter" than the tribute concert.
The show will be co-hosted by BBC Radio 1 presenter Fearne Cotton and Hollywood actor and singer Jamie Foxx.
Gladys Knight, Alien Ant Farm, Jackson brothers Tito, Marlon and Jackie, Alexandra Burke, JLS, Pixie Lott, Diversity, and 3T will appear at the concert, while Beyonce will perform via satellite, said promoters Global Live Events.
During her singing career La Toya Jackson performed in more than 90 countries. Her chart releases include Heart Don't Lie and Just Wanna Dance.