Phillip Saunders murder case: no perjury charges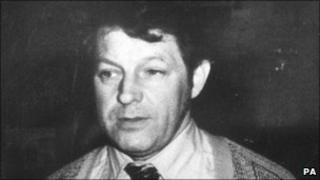 No charges will be brought against five witnesses questioned about alleged perjury and perversion of the course of justice at a 1988 murder trial.
Michael O'Brien and two other men spent 11 years in jail after they were wrongly convicted of killing Cardiff newsagent Phillip Saunders, 52.
The Crown Prosecution Service (CPS) said there was insufficient evidence to charge any of the witnesses.
Inquiries continue into alleged police fabrication of evidence.
Convictions quashed
Mr Saunders, who ran a newspaper kiosk in Cardiff central bus station, was attacked outside his home in Canton in October 1987 and died several days later in hospital.
Mr O'Brien and two other men, Darren Hall and Ellis Sherwood, were jailed for life in 1988 for the murder.
They were freed in 1999 after their convictions were quashed at the appeal court.
Two members of the public, a 45-year-old man and 46-year-old woman from Cardiff, were arrested, questioned and released on bail in December 2010 as part of enquiries into alleged perjury and perversion of the course of justice by witnesses.
Two other men, aged 40 and 41, and a 40-year-old woman were also questioned by officers.
South Wales Police said on Friday that following a "thorough and robust" investigation of the allegations, a file had been submitted to the CPS for consideration.
The force said the CPS had found there was "insufficient evidence" to charge anyone in relation to the allegations and that no further action would be taken.
The Independent Police Complaints Commission is continuing to supervise a separate investigation into complaints from Mr O'Brien about alleged fabrication of evidence by the police during the murder inquiry.