Final Welsh parade in Risca for nuclear test veterans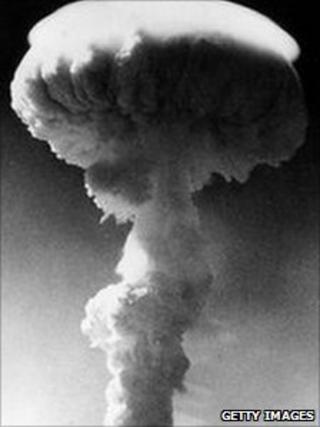 A parade by veterans of British nuclear tests has been held in Wales for the final time.
The march by members of the Welsh branch of the British Nuclear Test Veterans Association in Risca, near Newport, has been staged since 1993.
Organisers said dwindling numbers of veterans meant this would be the last parade.
Risca councillor Stan Jenkins said about 100 people, many of whom are local people, took part.
Risca has been a focus for nuclear test commemorations in Wales.
There is a special stone at the war memorial there, which is thought to be the only one in Wales.
Parade organiser Mr Jenkins said at least six veterans were involved in the parade on Sunday morning, along with Army and RAF cadets.
Wreaths were laid at Risca cenotaph before the parade ended at St Mary's Church where the veterans' standard was laid as has been carried out annually since 1993, said Mr Jenkins.
Compensation
"But it's been decided that this will be the last year because the numbers of veterans are reducing," he added.
Veterans involved in Britain's nuclear weapons tests between 1952 and 1958 were granted leave to appeal in July in their fight for compensation.
The Supreme Court agreed to their application for permission to appeal, and is expected to hear their cases next month.
More than 1,000 ex-servicemen say exposure to radiation has led to ill health, such as cancer.
But the Ministry of Defence maintains no "causal" link can be proved.