EastEnders team in E20 school workshops in Maesteg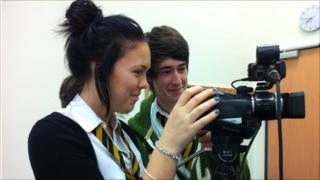 Pupils from two south Wales schools have had a chance to create their own soap operas with help from the BBC's EastEnders team.
Pupils from Ysgol Llangynwyd and Maesteg Comprehensive, both in Bridgend county, were visited by producers, script writers and editors from EastEnders web-based spin-off E20.
Actor Samuell Benta, who plays Donnie in the soap, gave the pupils aged 14 and over, an insight into his role during the workshops.
The pupils were encouraged to create their own characters and write a section of dialogue. A student then acted the role opposite Donnie which was filmed and edited within 90 minutes.
"It's very educational but great fun for the students," said BBC Learning executive producer Sarah Miller.
Eastenders: E20, which is shown online and on BBC Three, tackles some of the sensitive issues faced by teenagers.
Teachers are encouraged to use the 15 episodes in the series in the classroom to discuss topics in personal, social and health education.
"There are strong storylines in relationships, sex, bullying, careers and aspirations, which we can drawn on," said Ms Miller.
"First they watch some clips from E20 and the first episode. Then they create a character with a name, a character profile."
Ms Miller also paid tribute to the script editor who runs the session, Peter Matessi. "It really is a masterclass," she said.
"The students from Ysgol Llangynwyd created a male character who has a row with Donnie."
"Ten of the pupils then came out with camera kit and sound and were able to film the scene," Ms Miller added.
"They created something from scratch. They're working with real people from the industry."
Lewis, a pupil at Maesteg School, said he was impressed with the workshop.
"It was more fun than our usual English lesson. We learnt how to create a character, to include their good and bad points," said Lewis.
"Overall it was class. The actor, Samuell, was pretty cool."
The team behind E20 say the series has been a great way to train new TV talent, with many of production crew getting their first real experience in the industry.
Nia M Davies, BBC Learning executive producer of the online teachers resources said E20 can be a great benefit to teachers.
"The EastEnders E20 teaching resources will help teachers across the UK deliver the E20 drama as part of the PSHE curriculum," she said.
"Advisors and teachers have worked closely with us to ensure that we provide content that will have use in the classroom during and beyond the broadcast dates.
"Teachers are invited to comment on the resources by visiting the website."
The workshop will continue touring several UK cities including Manchester, Newcastle, Birmingham, Belfast and Glasgow.