Michael Jackson concert: Final preparations in Cardiff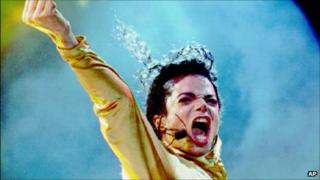 Final preparations are under way for Saturday's stadium concert in Cardiff in memory of Michael Jackson.
Christina Aguilera, Cee Lo Green and Smokey Robinson will perform at the Millennium Stadium, as well as Leona Lewis and JLS.
Marlon, Jackie, Tito and La Toya Jackson will also pay tribute to their brother. Beyonce will appear via video.
Organisers admit preparations have been challenging but say the event will be spectacular.
Michael Jackson died aged 50 in June 2009, during a rehearsal period for his This Is It tour.
The Michael Forever concert has been criticised for coinciding with the trial in Los Angeles of the singer's physician Dr Conrad Murray, who denies involuntary manslaughter.
Randy, Jermaine and Janet Jackson have confirmed they will not be attending the event because of the "bad timing".
But brothers Marlon, Tito and Jackie and his sister La Toya will be in Cardiff.
"Greatly honoured"
Their mother Katherine Jackson also said she was "greatly honoured" to attend the tribute to her son, which has been organised by Global Events Live.
BBC Radio 1 presenter Fearne Cotton will co-host the event with Hollywood actor and singer Jamie Foxx.
Beyonce will appear via a video link.
Chart-topping act Black Eyed Peas were among the biggest acts in the line-up, but the group pulled out with just days to go, citing "unavoidable circumstances".
Chris Hunt, head of Global Live Events, admitted that preparations had been challenging, but blamed "misinformation" for some of the negative headlines.
Mr Hunt told Reuters he was "happy" with ticket sales, although he did not have precise numbers, and that they had picked up "hugely" in recent days.
Cardiff council confirmed that an email was sent by the Millennium Stadium to its "key stakeholders," including Cardiff council staff, offering "a number of free tickets" to the concert. The offer was available on a first-come-first-served basis.
A council spokesman said he did not know how many free tickets were available but it was not believed to be a large amount and free tickets had not been offered to all council staff.
The stadium has been set a capacity of 60,000 for Saturday's show, with the first act on stage at 18:00 BST.
"It's going to be a huge and spectacular event," said Mr Hunt.
He added: "This is a Jackson family evening. I think it's easy to underestimate this. I think it will be a hugely emotional evening. Mrs Jackson and the children will be very visible."
Saturday's tribute concert, which will be broadcast around the world, with profits raising money for three charities including the Los Angeles-based Aids Project and the Prince's Trust.
Giving the event her "complete blessing", Katherine Jackson said: "Michael gave his entire life to the world through his love, his music and his devotion to healing the planet."
She added it would be a "worthy celebration of Michael's life" and that "this is how Michael would have wanted it".