Lynette White case: Abdullahi 'tried to leave country'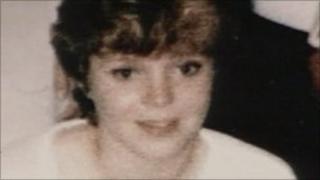 One of the "Cardiff Five" who was later accused of murdering prostitute Lynette White wanted to leave the UK shortly after she died, a trial has heard.
Yusef Abdullahi had been working on a cargo ship berthed in Barry Docks but was told he could not sail to France.
Mr Abdullahi, who has since died, was jailed for life in 1990 but cleared with two others on appeal.
Eight former police officers deny perverting the course of justice. The case continues at Swansea Crown Court.
The prosecution claims that, at first, police conducted a "proper" investigation into the murder of Ms White, who was stabbed 50 times inside a flat in Cardiff's docklands on 14 February, 1988.
But by October, the investigation was getting nowhere and some detectives then "fitted up" those, including Mr Abdullahi, they thought had been responsible by bullying witnesses into giving false statements.
Mr Abdullahi, who died in January, told police in 1988 that at the time of the murder he had been helping to carry out urgent repairs to the MV Coral Sea in Barry Docks.
Sidney Harrop, now a retired welder, said he worked on the Coral Sea almost constantly over a four-day period apart from breaks for meals and sleep.
In January, 1989, a police officer had shown him a photograph of Mr Abdullahi and he recognised him from the ship, but only because of a particular incident.
He said the repairs had been beset by problems and it became clear that some of the workers would have to sail with the Coral Sea and complete the contract en route to France.
He said that early on 16 February the lines were cast and the Coral Sea began to move. He was suddenly approached by Mr Abdullahi, who asked to stay on board.
'He jumped off'
Mr Harrop told him all the paperwork for the workers who would sail had already been completed and he did not even have a passport.
"He said he did not want paying. He said he just wanted to get away. He was too late. I told him to get off," said Mr Harrop.
"The ship was actually moving when he jumped off," he added.
Mr Harrop, who had travelled to Barry with a group of welders from Birkenhead, said that at about 6pm on 13 February, most of the workers had been taken to a Chinese restaurant close to Barry Docks.
About an hour later they returned to the ship to resume work, but "the local boys" could not be found.
Yusef Abdullahi, Stephen Miller, Tony Paris, John Actie and Ronnie Actie were arrested in December 1988 over the killing of Ms White.
John Actie and his cousin Ronnie were found not guilty in November 1990. Mr Miller, Mr Abdullahi and Mr Paris were convicted and jailed for life but released in 1992 when the Court of Appeal quashed their convictions.
In 2003, advances in DNA led new officers to Jeffrey Gafoor, who admitted the murder and said he had acted alone. He is serving a life sentence
All the police officers deny conspiracy to pervert the course of justice. One officer also denies two counts of perjury.
Two other people also deny perjury.