Treorchy man jailed over 'appalling' suffering to dogs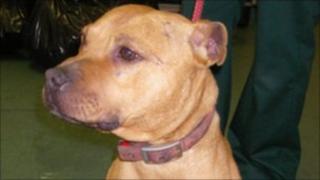 A man has been jailed for causing "appalling" suffering to his dogs, and banned from keeping animals for life.
An RSPCA inspector said the case involving Jason Tillier, 45, formerly of Treorchy, was one of the most disturbing he had seen.
Tillier admitted causing unnecessary suffering to Staffordshire Bull Terrier-type dogs at Pontypridd magistrates court.
He was jailed for 14 weeks for one offence and 23 weeks for the other.
The sentences will run concurrently. Tillier is currently serving a prison sentence for unrelated offences.
Pontypridd magistrates heard RSPCA inspector Simon Evans visited the defendant's home on 22 December, 2010 after receiving information there were dead dogs there.
During his inspection, Mr Evans went upstairs and saw one dog, called Lips, cowering under a bed. A vet found it to be suffering from "100%" lameness.
In the garden, Mr Evans found the body of a dead dog in a shopping trolley, covered in a layer of snow, the court was told.
Tillier admitted he used the trolley as an "incinerator" to burn dead or injured dogs.
Nearby, Mr Evans saw a large plastic tub smeared in blood. Inside the tub he discovered the body of another dog, Ralph, the court heard.
First offence
Tillier admitted he had repeatedly hit the animal with a piece of scaffold piping in the house and later concealed the animal in the garden.
He argued that the dog had been very aggressive towards him and he had killed the animal in self-defence.
In his defence, the court was told that Tillier had suffered a breakdown in 2010 and this would have influenced his behaviour in relation to the dogs.
The court also heard that the defendant had owned dogs for many years and this was his first offence involving animals.
In sentencing the Tillier, magistrates said this had been an appalling act of cruelty.
Following the hearing, RSPCA inspector Simon Evans said: "This has been one of the most disturbing cases I've ever had to investigate and I am pleased with this sentence.
"These animals were living in a house of death and I'm relieved that we've been able to prevent further suffering."