Bypass cuts Church Village traffic by 70%, says council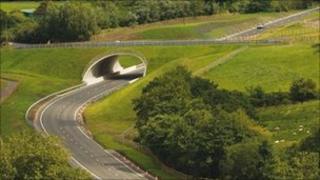 A bypass built around Church Village in Rhondda Cynon Taf is being used on average 20,000 times a day.
The county council says since the road opened a year ago it has saved seven million journeys through the village and reduced traffic by 70%.
The £90m bypass was first suggested in the 1980s with campaigners saying it was needed to cut congestion and air pollution in the village.
Since it opened it has cut travel times between Talbot Green and Pontypridd.
During construction the the 4.6-mile (7km) road was the largest single highways project undertaken by any local authority in the UK.
It includes a community route for walkers and cyclists linking to local footpaths and public rights of way via three footbridges.
Three special bridges for dormice were also built at a cost of £190,000.
Council cabinet member for transport Andrew Morgan said: "A year on and we can all certainly see the benefits for ourselves.
"Not only is the bypass a much welcomed route for travellers, but it means that local communities have seen a dramatic reduction in traffic congestion and public transport can run smoothly as never before.
"I know how grateful local residents are for the relief it has brought their communities."
He said the bypass had also brought benefits to motorists and was strategically important to the economic development of the whole of the county borough.