New school for Finnish community in Cardiff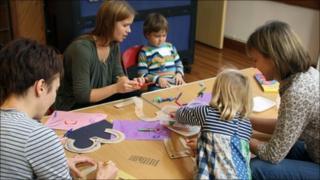 Members of the Finnish community in Cardiff have opened their own school for those wishing to boost links to their heritage.
The Suomi-koulu (Finnish School), provides classes for children with Finnish roots but also offers lessons for adults hoping to pick up the language.
The success of Finland's education system is renowned worldwide.
Parent Kaisa Pankakoski said it offered expatriates a chance to "reconnect".
The school in Llanishen is operating for three sessions on Saturdays only but staff hope it will eventually expand its offer if the demand is there.
Toddlers and young children learn the language via play-based tuition sessions while parents can brush up on their mother tongue or learn their partner's language in adult classes.
But those with no connection to Finland are also welcome to attend.
Ms Pankakowski has lived in Cardiff for eight years and has an 18-month-old son, Lucas, with her Welsh partner.
Although she returns to relatives in Finland several times a year, she jumped at the chance for Lucas to be involved in the school.
She said there are many Finnish women like her, married to Welsh men, keen to maintain links with their home.
She told BBC Wales: "When my son was born, I realised there was quite a big Finnish community here and we used to meet round each other's houses, but then the group got too large.
"I speak Finnish to my child but it's very exciting that he will get to learn with other children and that it will be a part of his life.
"So many of the people I meet are bringing their children up bilingually or even trilingually and this really helps."
Saara Goddard, the chairwoman of the school, said there was a big take-up from half-Finnish families keen for their children to make social contacts with others and use the language outside of the family home.
Multicultural
"The school was founded for the purpose of making it easier for Finnish or half-Finnish parents to pass the language to their children and offer an opportunity to anyone interested in Finland or the Finnish language to study it in Cardiff.
"Cardiff is a multicultural city with a strong emphasis on bilingualism, so I believe that many people will understand how important it is for us to pass on our culture and language to our children and also make Finland better known around us."
The school in Cardiff is a non-profit making charity which is supported by the Finnish Ministry of Education and Culture.
It operates at the Bethel United Reformed Church on Llangranog Road in Llanishen on Saturdays.
Children in Finland only start main school at age seven.
The idea is that before then they learn best when they're playing and by the time they finally get to school they are keen to start learning.
The education system there is considered one of the best in the world.
It has been in the top three countries for proficiency in English, maths and science for every year of the Programme for International Student Assessment (Pisa).