Concerns over Chepstow hospital injury unit closure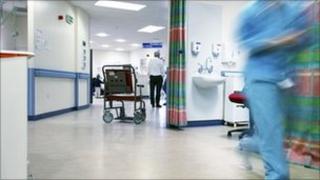 A decision to close three minor injury units at hospitals in Monmouthshire and Torfaen has met with concern.
Units at Chepstow Community Hospital, Monnow Vale in Monmouth, and County Hospital in Pontypool are affected.
Local politicians say there has been a lack of consultation and the closures raise questions about the long-term future of Chepstow hospital.
But health chiefs say the units do not see enough patients to keep staff skills at the required level.
Aneurin Bevan Health Board added that the changes are a response to concerns about safety from patients and staff.
In future, patients needing treatment for minor injuries will have to go to the Royal Gwent in Newport or Nevill Hall Hospital in Abergavenny.
The decision follows a 2010 review of the units across the health board area, which saw overnight services stopped at the Chepstow, Tredegar and Monnow Vale units last September.
But some local councillors say the move signifies a "winding down" of Chepstow, Wales' first hospital to be built under the Private Finance Initiative (PFI).
It follows the earlier amalgamation of some wards and an overall bed reduction from 84 when it opened in 2000 to 56.
Dave Evans, a Labour member on Monmouthshire County Council said: "I have great concerns about the future of the Chepstow hospital in particular.
"It's a newish hospital and the demand is there from people in the Severnside area, so why are they being told to travel to Newport which is a very busy hospital?
Decline
"About 18 months ago they closed some wards and it doesn't seem like they have a long-term plan for the hospital. There's also been no consultation on these changes and how it affects the livelihoods of nurses and cleaning staff."
Fellow councillor Armand Watts, who represents the Chepstow ward, said the plans amounted to a lack of thought for patients living along the M48 corridor, who will have to travel further for services.
"There does seem to have been a decline over the past 14 months and this lack of consultation is worrying."
But Cathy O'Sullivan, chief officer at Aneurin Bevan Community Health Council, called the claims "reprehensible" and said they were sparking unnecessary fear among patients.
She told BBC Wales the issues were related to the overall modernisation of care in the NHS and a shift away from bed-based hospital care.
"It's wrong to suggest people there are losing a facility, they aren't.
"There have been concerns about safety at the minor injuries units because there needs to be a certain number of people going through them to maintain staff skill levels.
Patient safety
"A minor injuries unit has to be open and accessible rather than ad hoc - we don't want people turning up for treatment when a centre is closed."
She said the CHC had advised the board not to consult because the issue was patient safety and needed to be acted upon.
"The hospital is not at risk and will continue to deliver a range of services to suit local needs."
Aneurin Bevan Health Board said it had worked closely with patient representatives, the CHC, local councillors, GPs and hospital clinicians before making the decision.
"In order for a minor injuries unit to provide a safe level of care, an individual service would need to see 30 patients a day so that staff are familiar with and competent to deal with the injuries."
The spokesman added that as the three units only see an average of five minor injuries a day, they do not meet minimum standards and many of the services could be provided by GPs or community nurses closer to home.
"The health board has a duty of care to patients and will now be engaging with the public to explain when, where and how people will access local services.
"We will also ensure that patients who currently rely on minor injuries units for non-minor injury services e.g. dressings, are directed to the most appropriate service for their health needs."