£34m grant boost for Penarth schools plan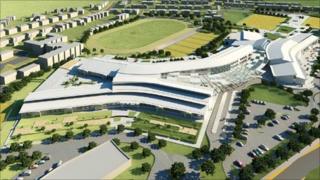 Funding towards a £48m school development in the Vale of Glamorgan has been given the go-ahead.
The Welsh government has backed four replacement schools, including a new building for St Cyres comprehensive in Penarth, with a £34m grant.
There will also be three special schools moving onto the site to create what the council calls a "learning community".
The council hopes to begin work on the site in October next year.
It is planned to replace current school buildings at St Cyres School, Ysgol Erw'r Delyn Special School, Ysgol Maes Dyfan Special School and Ashgrove Special School.
Planning permission is still needed by the council.
The proposals for the schools also has to go through a consultation process which will run from next Monday until 17 November.
The leader of the Vale of Glamorgan Council, Coun Gordon Kemp, said he was pleased the plans were being supported.
"We now look forward to converting our plans into an educational facility which will bring enormous benefits to pupils, staff and the wider community," he said.
The head teachers of St Cyres School, and Ashgrove Special Schools are also supportive.
"The rebuilding of St Cyres is urgently required in order for us to continue providing high quality education for each one of our pupils," said head teacher Dr Jonathan Hicks.
"The designs for the new school building are exciting, vibrant and will provide a focus for the whole of the local community."
Ashgrove head teacher, Chris Britten, added having facilities together would have a "positive effect" on the outcomes for pupils with additional learning needs.