Aamir Siddiqi trial: Hitmen murdered 'wrong' target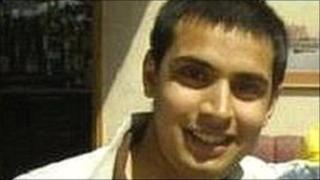 A jury has heard two hitmen displayed "staggering incompetence" by repeatedly stabbing the wrong target in Cardiff.
Aamir Siddiqi, 17, was killed at the front door of his house in the Roath area of the city and his parents were injured trying to defend him.
Ben Hope, 38, and Jason Richards, 37, deny murder and attempted murder and blame each other.
The jury at Cardiff Crown Court was told the men were contracted to attack a father of four who lived nearby.
Prosecuting, Patrick Harrington QC told the court Mr Siddiqi had been expecting his Koran teacher to call on 11 April 2010, the day he was killed.
When he opened the door he was confronted by two masked men.
Mr Harrington said they immediately started stabbing him and although they said nothing they "howled" throughout the attack.
Wrong address
He described it as "a cowardly and brutal act".
Mr Siddiqi's father Iqbal, 68, and mother Parveen, 55, were also stabbed trying to defend their son.
The court was played a recording of Mrs Siddiqi's 999 call pleading for an ambulance after the two men fled.
Mr Harrington told the court Mr Siddiqi was never the intended target and the men were contracted to attack a father-of-four living around the corner in a similar terraced house.
It is claimed he was in dispute with another man over the sale of his house.
The court heard although Mr Hope and Mr Richards made a reconnaissance trip to the house when they went back they took a completely different route and ended up at the wrong address.
The trial continues and is expected to last 10 weeks.