Abergavenny cattle market town council referendum call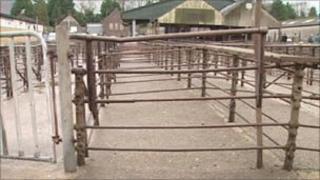 A town council has called for a referendum over plans to replace an historic cattle market with a new supermarket, library and car park.
Abergavenny town councillors backed a call for local people's views to be canvassed on the proposals.
Monmouthshire council claims the mart is not fit for purpose and has granted planning permission to develop the site and for a replacement near Raglan.
Thousands have signed a petition in protest at the plans.
The town council, which met on Wednesday evening, backed a motion calling for a local referendum to held.
The planning bid for new market around 10 miles (16km) away near Raglan won permission from the county authority in June.
Abergavenny and District Civic Society has raised objections, criticising the design of the proposed new supermarket and claiming it did not reflect the character and appearance of the town centre.
The society and other groups, such as Abergavenny Chamber of Trade, said the supermarket should be positioned closer to the town centre.
Cantref ward councillor Paul Jordan, who backs the development plans, said it had been established that the town needed a new supermarket.
He said the issue was whether a new supermarket was sited in the town or a proposed out-of-town location.
He said: "There is undoubtedly a need for a supermarket. I have got no fears that a referendum will be an appropriate method of asking the people of Abergavenny what they want."
A Welsh Government spokesperson said: "The council appear to be legally obliged, to hold a livestock market in the town on specified days under the 19th Century Abergavenny Improvement Acts.
'No responsibility'
"So far as we know this is a unique restriction in Wales. All other local authorities are free to decide on these matters, and to operate livestock markets under powers in modern legislation.
"We have long said that that we would consider repealing these acts if and only when the council took the decision to close the current cattle market.
"We have no responsibility for that decision, or for the related proposals to move the market to Raglan and construct a supermarket on the current site."
A meeting of representatives from farming unions, Monmouthshire council, and others to discuss the future of the market is expected to be held in the next week.